2018 Explore the Rouge: Summer Solstice Bicycle Ride led by Alan Vankerckhove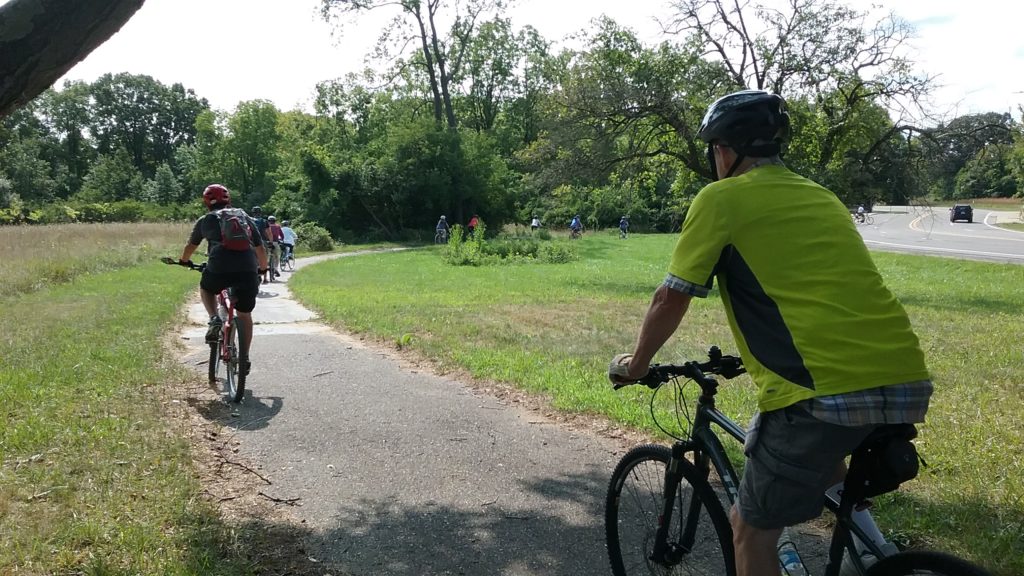 Thursday, June 21st 6:30-8:30 pm  The ride will not start before 

7pm

(sunset is 

9:14pm

)
(Rain date June 28)
Michigan State University Tollgate Educational Center
(arrive early to check out working farm)
28115 Meadowbrook Rd, Novi, MI 48377
Register
This year's 11 mile, 1-1/2 hour bicycle ride will be in the communities of Commerce Twp, Novi & Walled Lake in Oakland County, at or near the watershed boundary between the Rouge & Huron Rivers. Optional bar/restaurant stop after. The route is entirely on asphalt pavement and will almost completely be on multi-use pathways. We will ride for 1/4 mile along Walled Lake on a 25 MPH local road.
Ride Highlights: We will be straddling the Middle and the Upper Rouge Watersheds. We will even ride a 1/4 mile into the Huron River Watershed (Wolverine Lake/Norton Creekshed). The ride takes us along wetlands, mitigated wetlands, retention ponds, lakes and streams. The "Lay-of-the-Land" features the rolling Defiance Glacial Moraine, peppered with kames & kettle lakes.
Our first focal point, when reaching Walled Lake, is an open park/field where the past "Walled Lake Casino & Amusement Park" started almost a century ago. Riding along the shore of Walled Lake, we will pass Lakeshore Park and stop at the beginning of the Walled Lake Branch; the largest single source of the Middle Rouge. Riding back into the Upper Rouge Watershed, we will stop at the entrance of Robert Long Park–the source of Seeley Creek. The lake within the Park, outlets to both the Huron and the Rouge Watersheds.
Heading towards the north end of our ride, we will be passing mitigated wetlands which are part of the headwaters area of Minnow Pond Creek of the Upper Rouge Watershed. At the turn around location, we will be at the unfinished intersection of trails that will lead to all 4 Lakes that surround Lower Michigan–Lakes Michigan, Huron, St Clair & Erie.
For those who want to ride the new connection between the I-275 & M-5 Trails, Al will lead them on the 2 extra mile round trip path after everyone returns to Tollgate.