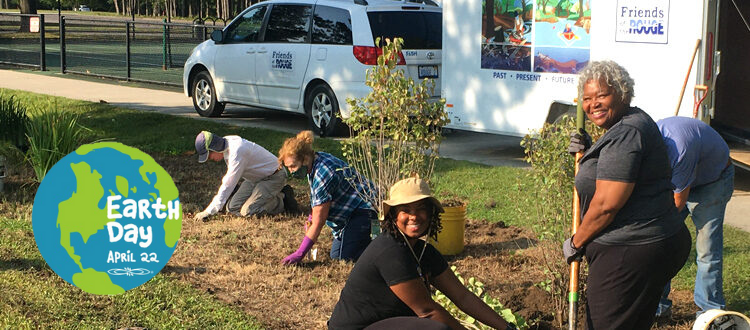 Earth Week: Transform Your World – Starting with Your Hometown River!
Earth Week 2022: Tuesday, April 19th through Saturday, April 23rd
Earth Week is your time to act! Make your world better, starting from your backyard and up:
VOLUNTEER: get your hands dirty planting trees, surveying for bugs, and more
LEARN & EXPERIENCE: enjoy a four-part lunch & learn series on pollinators, native plant gardening, rain barrels, and rain gardens
DONATE: make an Earth Day difference!
You make a better world possible—starting right here!
DOOR PRIZES! See bottom for details, including native plant kits and rain barrels
VOLUNTEER

Lower Rouge Tree Planting
Wed, Apr. 20 @ 9am
Lower Rouge Tree Planting
Thu, Apr. 21 @ 9am
EARTH DAY
Tree Planting
Fri, Apr. 22 @ 9am
Lower Rouge Tree Planting
Sat, Apr. 23 @ 9am
Clean-up: Fort Street Bridge Park
Sat, Apr. 23 @ 9am
Clean-up: Rouge Park
Sat, Apr. 23 @ 9am
Your full list of spring volunteer events!
LEARN & EXPERIENCE
Pollinators 101
Tues, April 19 @ Noon
Native Plant Gardening 101
Wed, April 20 @ Noon
Rain Barrels 101
Thu, April 21 @ Noon
EARTH DAY
Rain Gardens 101
Fri, April 22 @ Noon
DOOR PRIZES! All participants are eligible to win prizes for participation! See below for prizes that will be given away—three (3) native plant kits, one (1) rain barrel starter kits, and more! You are entered to win each time you participate in an activity, so the more you do the better your odds. Make 2022 the year you have fun transforming your world!