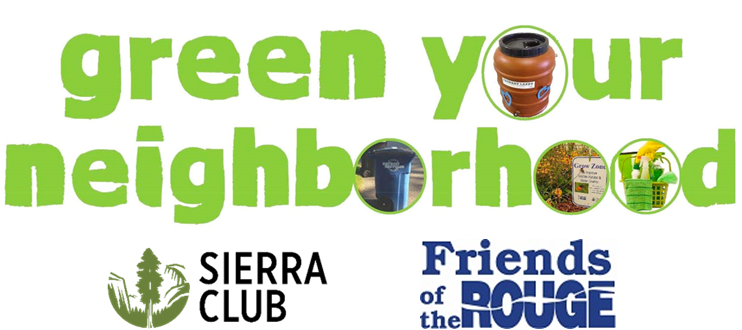 Green Your Neighborhood Community Forum
Saturday, March 16, 2019
10:00 a.m. to 2:00 p.m.

9:30 Registration
Wayne County Community College Eastern Campus
5901 Conner St.
Detroit, MI 48213
This year's focus for the Green Your Neighborhood Community Forum will be on the community health benefits of green storm water infrastructure. This free event is open to everyone and is a fun event to learn more about how to Green Your Neighborhood.
---
Keynote Speaker:
Dr. Kathleen Wolf,
University of Washington, College of the Environment

"Public Health and Green Infrastructure"

Dr. Wolf is one of the contributors to a recent paper titled: "Green Infrastructure & Health Guide." http://willamettepartnership.org/green-infrastructure-health-guide/
She brings a wealth of knowledge about the human benefits of nature.
Guest Speakers:
Dr. Branko Kerkez,
University of Michigan
"Smart Cities: Monitoring Water Quality in the 21st Century"

Dr. Kerkez will share research and monitoring strategies to improve water quality and wastewater systems. He is also partnering with FOTR and Sierra Club to monitor select rain gardens installed through the Rain Gardens to the Rescue Program.
Sundeep Varma,
Ph.D. Student, Wayne State University
"MicroBuoy Water Quality Sensors"

Micro Buoy has developed sensors to detect water quality concerns in Lake Erie to protect drinking water if harmful algal blooms develop near municipal water intake pipes. They are also using this same technology to develop micro sensors to be placed in kitchen faucets that will alert the homeowners if unsafe drinking water is detected.
---
Concurrent Breakout Session Topics:
Health Benefits of Nature– Kathleen Wolf, University of Washington
Growing Healthy Trees– Ryan Hebert, Greening of Detroit
Landscaping with Rain Gardens– Jaclyn Heikkila, Friends of the Rouge
Monarch and Pollinator Conservation– Tiffany Carey, National Wildlife Federation
Understanding Bird Prairie Habitat– Diane Cheklich, Detroit Audubon
Healthy Soils and Basic Gardening– Molly, Keep Growing Detroit
---
Agenda:
9:30 am – Registration and light refreshments
10:00 am – Welcome, Cyndi Ross, Friends of the Rouge
10:30 am – Sundeep Varma, PhD student, Wayne State University
11:00 am – Branko Kerkez, PhD, University of Michigan
11:30 am to noon – BREAK
Noon – Kathleen Wolfe, PhD, University of Washington
12:45 pm – BREAK
1:00 pm – Breakout Sessions
1:45pm – Wrap Up: Raffle and Rain Garden Applications
2:00 pm – End
---
Please send questions to Quentin.