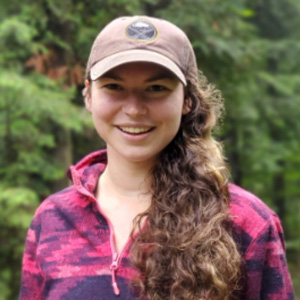 Isabelle is a 2021 Cooperative Institute of Great Lakes Research (CIGLR) Summer fellow, a program with the goal of exposing students to Great Lakes research. Isabelle is working towards this goal by using modeling to analyze the Friends of the Rouge (FOTR) Bug Hunt data. Through her research, Isabelle hopes to contribute a deeper understanding of the spatial and temporal variability in the FOTR macroinvertebrate data and to use the information she gathers to better understand the intricacies between human development and urban water quality in the Great Lakes region.
Isabelle comes to FOTR as a Ph.D. student at Marquette University in Milwaukee, WI. At Marquette, Isabelle studies Environmental & Water Resources Engineering under the advisement of Dr. Anthony Parolari. Isabelle's research interests lie in the intersection of the urban environment and water quality, where she is especially interested in stormwater management practices as controls of water quality.
Isabelle is passionate about community science and education. She volunteers regularly as an environmental educator for Milwaukee's Urban Ecology Center. Isabelle is very excited to work with community science data and grateful for the opportunity to pursue her passion for community-centric science through her fellowship. Prior to her Ph.D. studies, Isabelle earned her B.S. in Environmental Resources Engineering from the State University of New York College of Environmental Science and Forestry (SUNY ESF), and an M.S. in Civil Engineering from Marquette University.