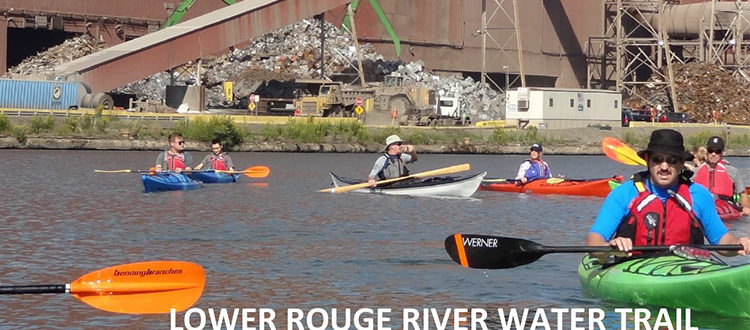 Lower Rouge Water Trail Strategic Plan
ORIGIN OF THE WATER TRAIL
For the last 12 years, Friends of the Rouge (FOTR) has worked to organize and facilitate different ways to bring people to the Rouge River for recreational enjoyment. In 2003, FOTR began organizing paddling (canoe/kayak) trips on the Rouge. These early paddling trips were designed to help alter the perception of the Rouge as a polluted waterway, showing people that 40 years of restoration efforts had effectively returned the river to life and that the river could be used for recreation.
Due to the growth and popularity of the paddling trips over time, FOTR began offering two formal guided paddling trips every year. Through these established paddling trips and concerted efforts to explore the navigable branches of the Rouge, FOTR determined that the water levels of the lower branch of the river are consistent enough to support a water trail. In addition, despite encountering over 170 logjams, a three-day expedition along the Rouge in 2011 confirmed its potential as a water trail. In 2012, FOTR partnered with communities along the river, two local liveries, local paddler and the National Park Service to begin developing a water trail on the Rouge River. Among other things, these collective efforts resulted in a paddling guide that highlighted interesting and open sections of the river to paddle, along with launch sites and points of interest.
In 2018, recognizing the continual need to connect people to the river, the extraordinary popularity of paddlesports, the growing development of water trails in southeast Michigan (and the entire state) and an opportunity to leverage the water trail for economic development in communities and downtowns along the river, FOTR kicked off a comprehensive planning effort to develop a Strategic Plan for the water trail. With generous funding from the Erb Family Foundation and the Southeast Michigan Council of Governments (SEMCOG), this Strategic Plan provides the framework and direction for the sustainable development and management of the water trail.
This 118-page document is available for download and review.
Download the Lower Rouge Water Trail Strategic Plan
---
Funding for this strategic plan was provided by the Erb Family Foundation and the Southeast Michigan Council of Governments (SEMCOG).
The Lower Rouge River Water Trail Leadership Committee is staffed and chaired by the Friends of the Rouge and others participating in the strategic planning process, including the cities of Allen Park, Dearborn, Dearborn Heights, Detroit, Inkster, Melvindale, River Rouge, Wayne and Westland, Canton Charter Township, and Wayne County.