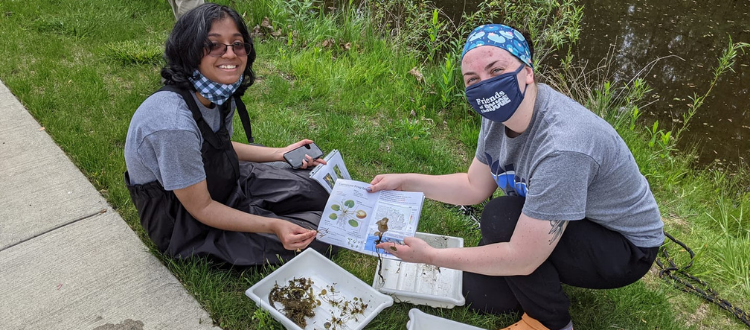 Aquatic Invasive Plant Monitoring Intern
Posted March 10, 2022
---
Position Background
FOTR seeks an intern interested in expanding their knowledge and experience of the environmental restoration and management or related environmental fields by conducting invasive plant surveys for European frog-bit and other aquatic watch list plant species as part of a project through the Oakland County CISMA (Cooperative Invasive Species Management Area). The intern will be trained in a modified version of the Michigan Clean Water Corps/Cooperative Lakes Monitoring Program protocol to look for and be able to identify submerged aquatic invasive watch list species in retention ponds, lakes and other bodies of water as well as an ArcGIS App used to record the information in the field. The intern will work with the Monitoring and Education Assistant to survey 200 sites in the Novi, Farmington, Farmington Hills, West Bloomfield area at sites identified by the Oakland County CISMA. Survey work will be done by going around the perimeter of the water body, throwing and pulling in a rope rake, possibly wading into the water and occasionally surveying from a kayak or canoe. Intern may assist with landowner communication, logistics of surveys and equipment cleanup using protocols provided by CISMA.
Work Hours: Part-Time Temporary Position; This is a seasonal position from May-July 2022, 15-20hours/week, weekday hours flexible (between 9am-4pm)
Stipend: $3000 ($15/hour for 200 hours)
Application Instructions
All interested parties are invited to submit 1) a resume, 2) three references, and 3) a cover letter indicating why you are interested in this position and that describes your experience and interest in the position. Please submit as a single PDF file of all three in the following format: Your Full Name_FOTR_Monitoring Intern_ Application. Incomplete applications will not be considered. Mail/e-mail to: Sam Davis (she/her), Education & Monitoring Assistant, sdavis@therouge.org.
Deadline for submission: Friday, April 1, 2022, by 11:59 p.m. Early submissions will be evaluated on a rolling basis. Late submissions will not be considered. No phone calls please.
To learn more and apply, please download the application and follow the instructions provided. Thank you for your interest in working to restore your Rouge River!