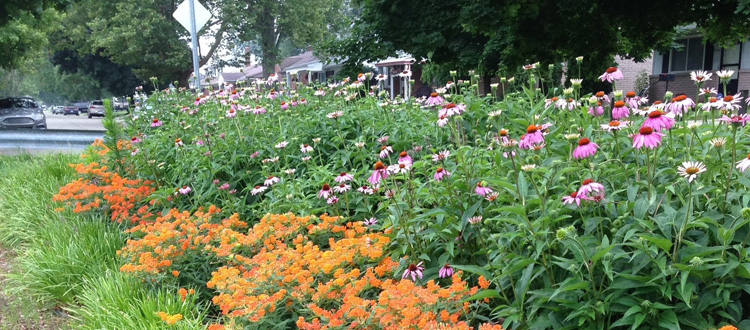 Collaborative Invasive Species Control within the Rouge and Detroit River AOC's, Wayne County
Partners:  Multiple partners, Wayne County Dept. of Public Services
Funded by:  A Great Lakes Restoration Initiative grant from the US EPA in the amount of $653,756 to Wayne County Department of Public Services supports this project to control invasive plants.
Wayne County Department of Public Services and partners, which includes Friends of the Rouge and a student conservation corps, will implement an integrated pest management program for invasive species along the Rouge River and on county property in the Detroit River watershed. The project will control phragmites, Eurasian milfoil, buckthorn, garlic mustard and other invasive species on 250 acres in the Lake Erie basin.
2016 invasive control workdays will be conducted:
In April and May 2016 during Rouge Rescue
In July with the Student Conservation Association
In September and October with volunteers
Project details will be posted as they become available.
Green Infrastructure Workshops
Funded by: Alliance of Rouge Communities
Green infrastructure is a term that can encompass a wide array of specific practices, and a number of definitions exist. American Rivers defines green infrastructure is an approach to water management that protects, restores, or mimics the natural water cycle. Green infrastructure is effective, economical, and enhances community safety and quality of life.
Friends of the Rouge, in partnership with the Alliance of Rouge Communities, coordinates workshops to teach the public about stormwater issues and how they can protect the Rouge River at home.  Topics focus on native landscaping and riparian buffers. The workshops schedule will be announced in January 2016.
Growing Sustainable Water Solutions: Rain Gardens to the Rescue Program
Partners: Sierra Club Great Lakes Program & Keep Growing Detroit
Funded by: The Erb Family Foundation
Sewage and urban runoff are polluting Detroit's rivers. Detroit residents and civic leaders can prevent this pollution by putting Rain Gardens to the Rescue! The Rain Gardens to the Rescue program is a series of workshops designed to teach people about rain gardens and how to create rain gardens of their own.  Support will be provided to install 15 rain gardens in Districts 2 and 3 in 2016.  As volunteers become more aware and engaged in the program our hope is that they will become rain garden ambassadors in the community – teaching others about rain gardens, assisting with rain garden plantings and spreading the message about the importance and need for rain gardens in the community.
Workshops will be held in May and June 2016 (dates will be posted in December 2015)
Plantings will be held in August and September 2016
A 2016 program application will be available in December 2015
Rouge River Green Infrastructure Education, Installation and Marketing
Partners: Communities in the Johnson Creek and Tonquish Creek Subwatersheds
Funded by: The Michigan Department of Environmental Quality Nonpoint Source Program
Friends of the Rouge will implement focused restoration and protection efforts in the Johnson and Tonquish Creek communities by engaging residents in green infrastructure education and installation. Through use of a marketing campaign utilizing a marketing/PR consultant, workshops, community meetings, school-based experiential learning, volunteer training, rain garden demonstration plantings and participant surveys; FOTR will engage homeowner associations, students, and other community groups in hands-on, peer-to-peer, grassroots initiatives. These initiatives will educate residents about nonpoint source pollution and the impact storm water has on local creeks.