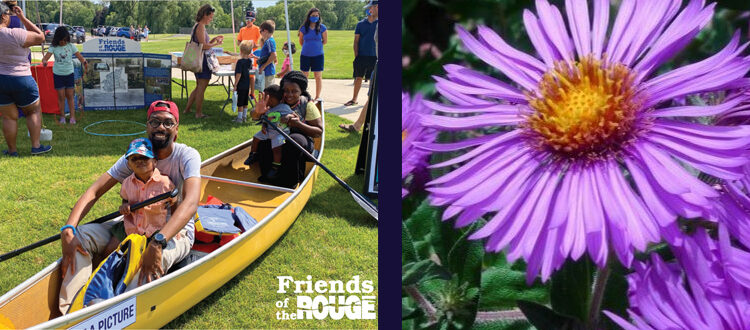 Rouge Rescue Backyard Fair & Native Plant Sale
Join Friends of the Rouge for this exciting inaugural family-friendly event at Beechwoods Park in Southfield on Sunday 5/22 from 1pm to 5pm.
ALERT: CONSTRUCTION ON BEECH RD
Beech Rd allows only southbound one-way traffic. Access event by traveling to Nine Mile Rd and Beech, then south on Beech Rd.
ROUGE RESCUE BACKYARD FAIR & NATIVE PLANT SALE
Native Plant Sale
Native Plant Sale, hosted by Designs by Nature, with quarts of your favorite native plants available for same-day purchase. $5 quarts, $6 and up for woodland rescue plants, plus more
Children's Activites
Children's activities, including live readings, activities, and playground
SUNDAY 5/22
1PM – 5PM
Southfield @ Beechwoods Park (22200 Beech Rd)
VOLUNTEER
Volunteers make this event possible! And they get up to a 20% discount, plus first crack at the plant sale.
Talks
10 minute pop-up talks on rain gardens, rain barrels, pollinators, etc
You make a better world possible—starting right in your own backyard!
AGENDA
1pm
Event opens! Native plant sale, children's activities, plus tables with activities and information for adults
1:30pm
Native Plant Speed Talk. Get the scoop on native plants, and get oriented to the plants available at the Native Plant Sale.
2pm
Book reading of "Let's Build a Rain Garden" by local children's book author Sally Wenczel
2:30pm
Pollinator Speed Talk. Find out what all the buzz is about with pollinators!

3:30pm
Rain Barrels Speed Talk. Touch, tip, and otherwise try out a real live Rain Barrel Starter Kit, (just please don't kick the tires), and learn more about whether a rain barrel is right for you.

4:00pm
Rain Garden Speed Talk. Check out the freshly planted rain garden at Beech Woods Park, and learn more about whether a rain garden is right for you. We'll also learn about the permeable pavers installed in the parking lot.

1pm – 3pm. Earth Friendly Landscaping. Making compost the "easy" way, using natural mulches, and using compost for an earth-friendly landscape.
Local children's book author Sally Wenczel will have copies of her book "Let's Build a Rain Garden" available for purchase. She will give a live reading of her book at 2pm
Terrain model of the Rouge River Watershed, staffed by volunteer Al VanKerckhove
Dry Dock with Herman Jenkins. Hop in a canoe and learn about the Lower Rouge Water Trail
Enviroscape model staffed by Yvonne Willis
Pollinators table staffed by Colleen Sturm