GET A JUMP ON EARTH DAY 15% OFF SALE
PICK-UP ONLY Native Plant Kits — 38 Plant Plugs (3")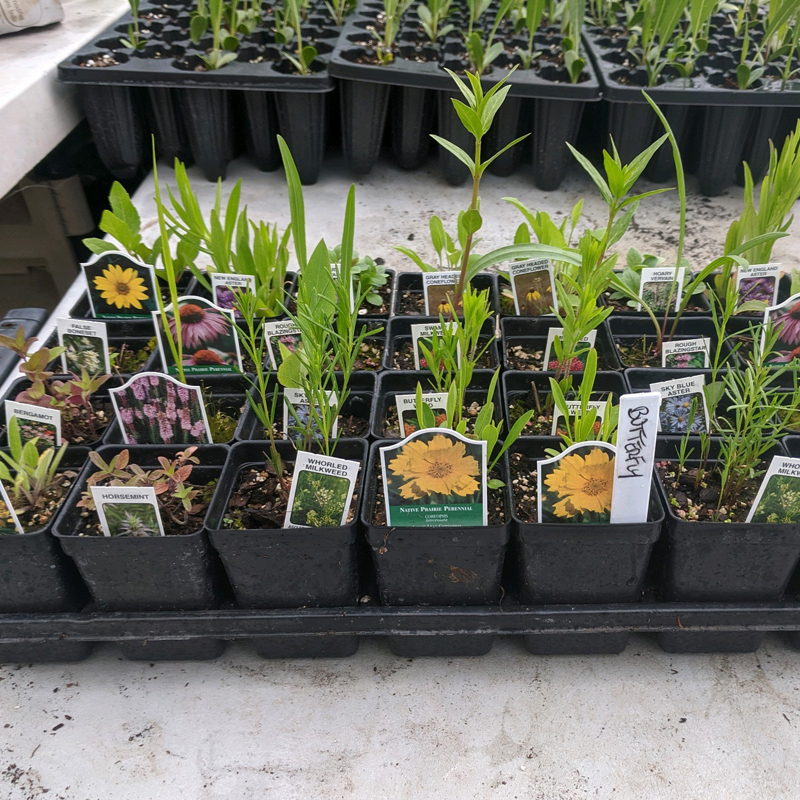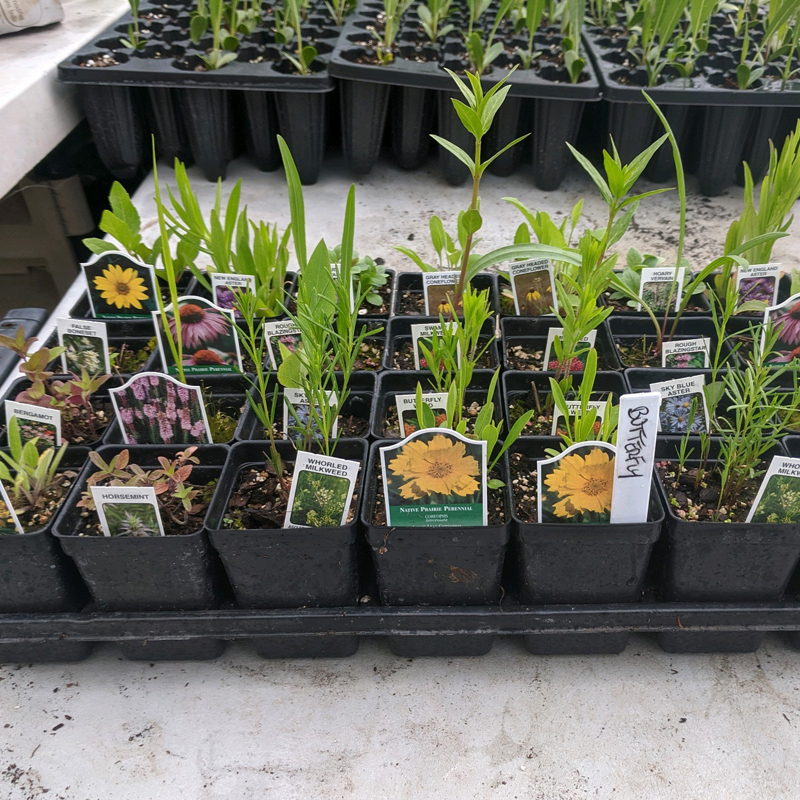 A one-time price of
$105.40
will be added to your order.
Description
Specifications
PRESS HERE TO LEARN MORE ABOUT SLIDING SCALE PRICES
PICK-UP ONLY: Native Plants Kits: 38 Michigan Native Plants, 3" Plugs
Each kit contains 38 Michigan native plants of various habitats
Each plant species is labeled.
Each kit is suitable for covering about 65 square feet (if planted on 18" centers).
Blooms from spring to fall
KIT CONTENTS
The grower reserves the right to make substitutions from the lists provided below as needed based on available supply.
RAIN GARDEN KIT
BUTTERFLY KIT
Includes up to 15 different species
Includes nectar and host plants for native butterflies
Plants included: Early sunflower, New England aster, hoary vervain, grey headed coneflower, false boneset, purple coneflower, sky blue aster, rough/northern blazing star, swamp milkweed, bergamot, prairie blazing star, butterfly weed, black-eyed susan, horsemint, whorled milkweed, sand tickseed
POLLINATOR KIT
Up to 16 different species
Kit offers a good selection of nectar and host plants for a variety of species of critters
Includes many nectar plants with multiple floret clusters, perfect for pollinators
Plants included: Early sunflower, stiff goldenrod, false boneset, New England aster, swamp milkweed, purple coneflower, butterfly weed, bergamot, black-eyed susan, sand tickseed and horsemint
SHADE KIT
MONARCH WAY STATION KIT
Up to 16 different species
Includes food sources of varying milkweeds, nectar sources and structural plants for chrysalis building
Plants included: New England aster, false boneset, butterfly weed, gray headed coneflower, stiff goldenrod, bergamot, swamp milkweed, mountain mint, prairie blazing star, sky blue aster, black-eyed susan, whorled milkweed, sand tickseed
GRASS KIT
WILDFLOWER KIT
Up to 16 different species.
Varying height flowers adds both beauty and wildlife benefits
Flowers may include: showy goldenrod, grey headed coneflower, early sunflower, swamp milkweed, smooth blue aster, purple coneflower, bergamot, blue/hoary vervain, sky blue aster, mountain mint, butterfly weed, whorled milkweed, black eyed-susan, sand tickseed and wild petunia
WETLAND KIT
SHORELINE KIT
Up to 12 different species
Plants are selected by their ability to stabilize the soil
Garden will thrive in fluctuating water conditions
Includes grasses, rushes, sedges and wildflowers
Plants included: Switch grass, Riddell's goldenrod, boneset, joe-pye weed, fox sedge, marsh blazing star, swamp milkweed, bottle gentian, cardinal flower, blue lobelia, mountain mint, turtlehead, brown fox sedge and dark green rush