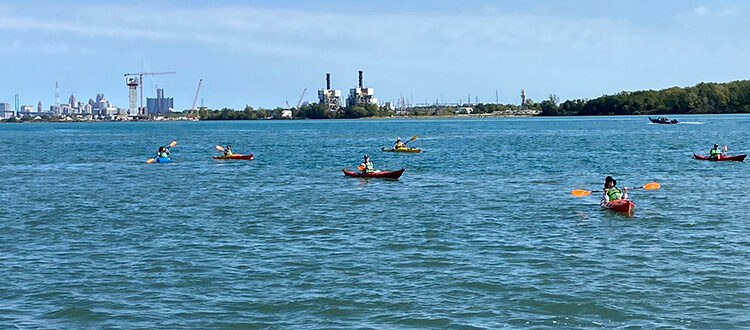 2021 Industrial Paddle Trip
Friends of the Rouge hosted its annual Industrial Paddle Trip on Saturday, September 18. Riverside Kayak Connection led the annual kayak and canoe trip from Melvindale's Kessey Fieldhouse down the Rouge to the Detroit River, where the group docked at Belanger Park in River Rouge.
The paddle trip route passes the original Ford Rouge Plant, the turning basin, and Zug Island. The trip also features an array of one-of-a-kind drawbridges and a surprising diversity of Michigan birds and wildlife.
Friends of the Rouge and the National Kidney Foundation of Michigan were stationed at Belanger Park to promote the Water Trail with the Dry Dock Pop Up that features a canoe, Rouge Watershed Terrain Model, and maps of planned greenway trails and water trail launch sites. The National Kidney Foundation of Michigan provided healthy snacks and tips on living a healthy active lifestyle.