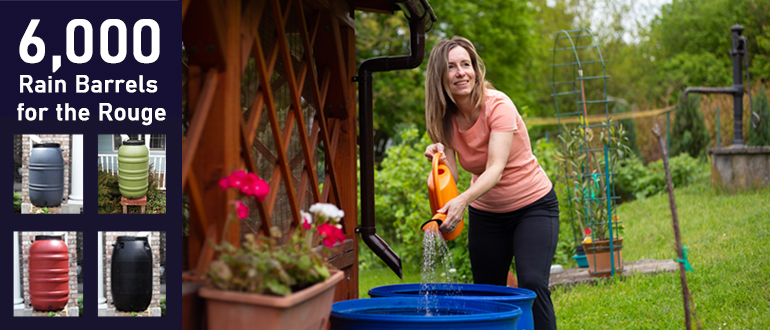 Shop the Rouge Rain Barrel Store
Enjoy massive cost savings on YOUR rain barrel through a bulk pre-order. Drinking water is precious: let the rain water your plants!
15% off LAST CHANCE sale starts Saturday 5/30 and runs through Thursday 6/11. Order now for the 6/20 Plymouth pre-order pick-up!
View Cart
Product successfully added to your cart.
←

→

Save water, save money with a 55 gallon upcycled rain barrel. With five available colors, start saving today with the perfect barrel for your home!

Buy 2 at $77.56
Buy 3 at $74.38

Successfully Added to your Shopping Cart

Save water, save money with an upcycled rain barrel. With five available colors, start saving today with the perfect barrel for your home!

Buy 2 at $71.19
Buy 3 at $68.00

Successfully Added to your Shopping Cart

Successfully Added to your Shopping Cart

Successfully Added to your Shopping Cart

Membership with Friends of the Rouge has its benefits! Members generally receive discounts on Friends of the Rouge's sales and events. Become a member today, and you'll receive a coupon code that you can then use to receive 10% off all products sold in the store.

NOTE: Purchase your membership before purchasing other products to ensure you receive the membership discount.

Successfully Added to your Shopping Cart

Successfully Added to your Shopping Cart

Successfully Added to your Shopping Cart

Successfully Added to your Shopping Cart

Successfully Added to your Shopping Cart

Successfully Added to your Shopping Cart