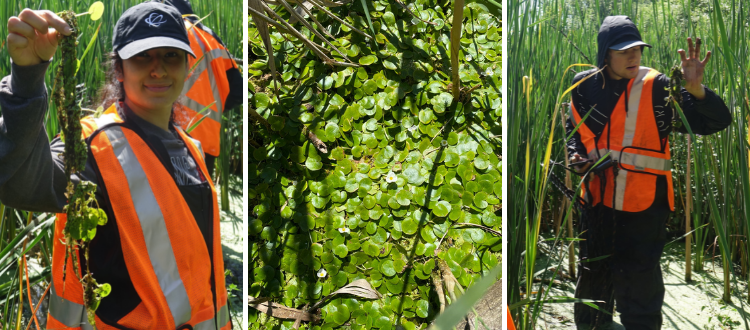 Beware of Invasive Frog-bit
In continuation of a project with Oakland County's Cooperative Invasive Species Management Area (OC CISMA) begun in 2020, FOTR's Education and Monitoring Assistant Samantha Davis and two interns, Miriam Cabrera-Avalos and Cooper Hall (pictured above), have been surveying ponds and wetlands around Novi and Northville for European Frog-bit, an invasive aquatic plant. First observed in Novi in 2019, Frog-bit can form dense mats that degrade habitat, block sunlight and rob ponds and lakes of oxygen. FOTR's role in the project is to look for any spread of this species so that OC CISMA can eradicate it before it gets a foot hold.
Beginning their field season in June, the team has surveyed more than 110 points in ponds, lakes and streams.  Unlike last year, when none was found, the team has observed new Frog-bit populations in approximately seven bodies of water near Beck Rd. & 10 Mile Rd. They will continue to survey through July. If you live in the area, please take some time to get to know this new invader and contact us right away if you think you might have some in your pond or lake.