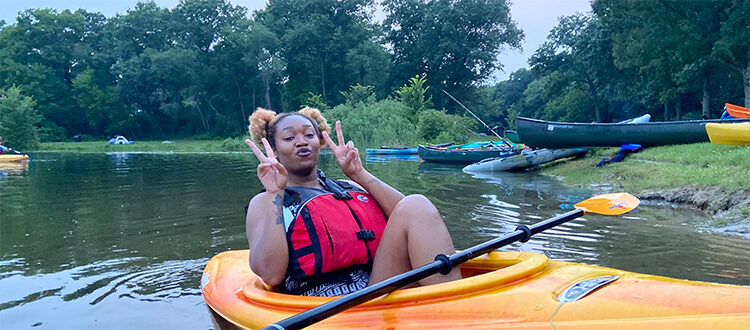 Black to the Land Coalition – Browns & Blacks In Kayaks 2021
On Sunday, July 18, 2021, Friends of the Rouge was thrilled to attend the Browns & Blacks In Kayaks paddling event. Black and Brown families from all across Metro Detroit came together to celebrate the outdoors and paddle Proud Lake in Commerce Township, Michigan. The event was organized by Black to the Land Coalition with the support of the National Wildlife Federation. Black to the Land is a coalition of Black, Indigenous, and People of Color nature enthusiasts, intent on helping fellow BIPOC actively engage in meaningful outdoor adventures. 
Kayaks and canoes were made available. There was fishing, swimming, and the potluck-style BBQ was delightful. "My daughter and I had a blast," said Herman Jenkins, Friends of the Rouge Trails Manager. "It wasn't her first time in a kayak, but it was her first chance to paddle on her own. It was awesome. We salute initiatives that foster more equitable access to outdoor recreation," Jenkins said.
Here are a few photos to enjoy.