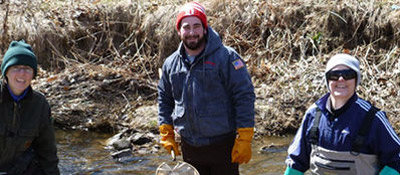 Bug Hunt Events and Training
We need your eyes, hands, and boots on the ground! No prior experience is necessary, but PRE-REGISTRATION IS REQUIRED. All volunteers must self-screen for covid symptoms. Children eight and older are welcome when accompanied by a PARTICIPATING adult; groups limited to four people.
We really value your participation. If you do sign up, your team will be counting on you to be there. Please only sign up if you plan to be there. If something comes up after you register, please let us know so we can re-assign people to your team.
---
Spring Bug Hunt
Saturday, April 15, 2023 10 a.m. – 3 p.m.
Registration Deadline: April 6, 2023
---
TEAM LEADER TRAINING
If you have attended a Bug Hunt or Stonefly Search or have some experience with benthic macroinvertebrate sampling, take the next step and become a Team Leader.
Team Leaders are provided with training and guidance and are asked to be available to lead a team during the spring and fall bug hunts and winter stonefly searches.
Currently, training is being offered in a hybrid format.
Part I – Virtual Training (recorded from March 29 training)
Part II – Field Training, waders required (we can supply)
Sat. April 1, 2023 9am-12pm in person
Identification Video – please review before field training
Veteran Team Leaders
Due to recent updates from the statewide monitoring agency, MiCorps, all Team Leaders must be recertified to lead a team starting October 2021. To recertify, view both videos below and attend field training.
Direct link on YouTube: https://youtu.be/H7ApqP05JyE
Direct link on YouTube: https://youtu.be/Nf93n3wP9os
---