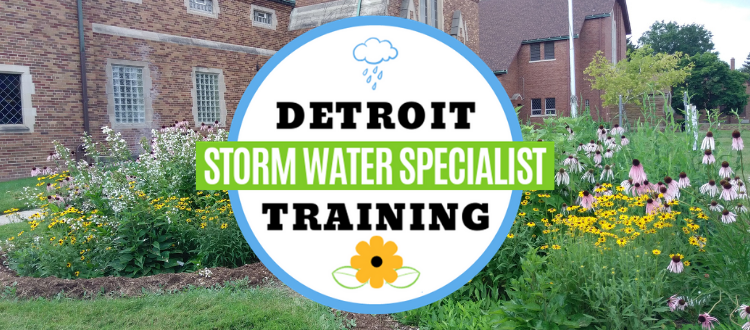 Detroit Stormwater Specialist Training (SWST)
Partners:
Application Now Open for 2022 Course!
Applications accepted on a rolling basis through May 18, 2022.
May 23 to June 30
6 Weeks, 24 Classes
Monday-Thursday, 5:30pm – 7:30pm
Class Location:
St. Suzanne Cody Rouge Community Resource Center,
19321 W. Chicago, Detroit, 48228
Mondays & Wednesdays will be held indoors
Tuesdays & Thursdays will be held outdoors
COVID Protocol: In an effort to keep everyone safe, we require proof of a negative PCR OR Rapid test 48 -24 hours in advance of each course or proof of vaccination. Masks are required for all indoor classes.
What to Wear/Bring:
Tuesdays and Thursdays dress for outdoor gardening work. Closed toe shoes, hats, and clothes that can get dirty are recommended. Bring a refillable water bottle if you have one. Water will be available at the Center.
Workforce Development Training Course
The StormWater Specialist Training is a workforce development program designed to provide you with pathways toward living wage employment working outdoors maintaining important landscaping features designed to protect the Rouge River, Detroit River and Lake Erie.
There is a growing need for people with specialized training to do this work! NO prior experience needed. Completion of this course will help you obtain the skills to get a job as Parks Maintenance or Grounds Maintenance Workers.
Additional learning to help you develop valuable employment skills and skills to start your very own business doing this high-demand work!
The 6 week, 24 class course will teach you how to weed native gardens, how to identify plants vs. weeds, photo monitoring, soil identification, observing and correcting erosion and sediment issues, transplanting and thinning plants, and more. Salary potential increases as you gain experience in this work.