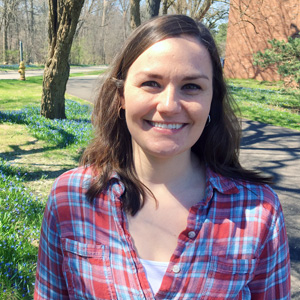 Erin is the Education Manager for Friends of the Rouge.  She started as Rouge Rescue Assistant in 2012 and later assisted with the Rouge Education Project, membership coordination, and various administrative tasks such as systems/database coordination.  Now, she oversees not only the Rouge Education Project but other general educational initiatives and outreach efforts such as the development of a Speakers Bureau and community stormwater education.
Erin is passionate about connecting people to their local environment in a meaningful way and empowering them to use that information to become more active in their community.  Her work with the Rouge Education Project allows her to engage with K-12 educators all over the region to get them involved in water quality testing, a skill they take back to their classrooms and on a field trip to the banks of the river.  A regular highlight for her is hearing from people who participated in the Education Project in school and fondly remember the experience in detail – sometimes even decades later.
She holds a bachelor's degree in Natural Resources Management with an emphasis on Environmental Science and a minor in advertising and public relations from Grand Valley State University. She got her start in environmental education as an undergrad working for a county-wide waste and recycling program. In her free time, you might find Erin learning about and working on old cars in the garage with her husband, hiking, camping, or snuggled up with one of their two cats.