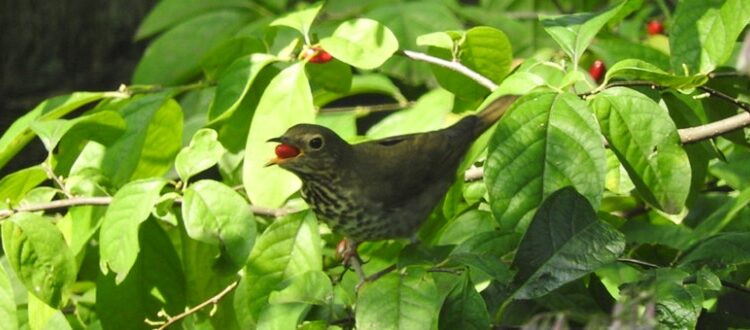 FLORA FEATURE – Life in the Shrub Lane
Occupying the space below tree canopies and above the grasses, the shrub layer offered a haven of food and shelter for wildlife. The shrubs provided bountiful offerings of strong branches, leaves, flowers, fruits, twigs, and even bark to meet the ever-changing needs of wildlife. They were year-round sources of food and places to rest, to hide from predators, to shelter from storms, and to raise the young.
The shrub layer was a busy place. White-tailed deer, foxes, raccoons, woodchucks, opossums, skunks, squirrels, chipmunks, mice, songbirds, ground birds, bees, beetles, flies, moths, and butterflies all found a home. Waterfowl, muskrats, and beavers slipped easily between the streams and shrubs while migrating birds stopped by to rest during their travels. Overall, life in the shrub lane was pretty good.
FEATURED NATIVE SHRUBS
A few of our most important shrubs for providing wildlife habitat include northern spicebush, American elderberry, buttonbush, smooth highbush blueberry, maple-leaf viburnum, nannyberry, fragrant sumac, red elderberry, native willows, and winterberry. (Note: the native willow Salix discolor (a.k.a. pussywillow) and winterberry were both featured in earlier articles.
TAKE ACTION
Native plants are the foundation of a healthy ecosystem. Historically, shrubs played a major role in providing wildlife habitats within the Rouge River watershed. Today, as we work to preserve and protect our watershed, it is important to include native shrubs in landscape plans and restoration efforts.
Running through suburban Wayne and Oakland counties, less than 25% of the Rouge River watershed remains undeveloped. Natural areas with shrub communities only exist in small bits and pieces; and even in those spaces, a variety of invasive shrubs are threatening native vegetation.
It is up to all of us to preserve the biodiversity of our wildlife and the natural habitats they depend on. You can help by planting native shrubs wherever possible and by volunteering with FOTR at one of our many restoration events.
MAIN PHOTO CREDIT: Swainson's thrush in Northern Spicebush (Lindera benzoin) – Brian Plunkett – CC-BY-2.0 – image cropped