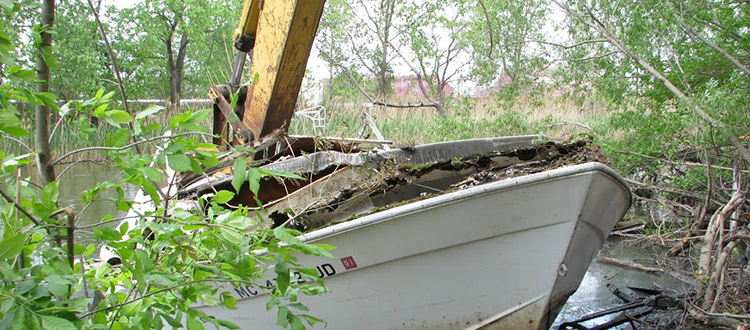 Fordson Island Oxbow Restoration and Marine Debris Removal
Backgound
In August 2010, the Detroit/Wayne County Port Authority was awarded a $150,000 Marine Debris Program grant from the National Oceanic and Atmospheric Administration (NOAA) and the Great Lakes Restoration Initiative (GLRI) to clean up the oxbow channel around Fordson Island.
Fordson Island
Fordson Island was created in 1917 by the dredging and channeling of the Rouge River to the Ford Rouge Plant. The dredging provided a deeper channel allowing the Ford Motor Company to transport submarine chasers (Eagle Boats) from the Rouge River to the deeper water of the Detroit River during World War II. Over time, debris from commercial, industrial, and recreational use of the island and surrounding waterway accumulated in the shallow river west of the island.
Project Activities
The DWCPA's Fordson Island Debris Removal program will consist of ecological and habitat surveys, shoreline clean-up which includes removal, characterization, loading, transportation, and disposal of shoreline debris and the monitoring of cleaned areas to determine re-accumulation rates. Additionally, a targeted outreach and education component for the community is included in the program.
Partners
This grant represents the power of dynamic partnership between private and community sectors. The collaboration between all project partners (Friends of the Rouge, Southwest Detroit Environmental Vision, Detroit Riverkeeper, United States Environmental Protection Agency, United States Army Corps of Engineers, Wayne County, City of Detroit Department of Environmental Affairs, Gateway Community Development Collaborative, Detroit Riverfront Conservancy, Marine Pollution Control, Waste Management, Friends of the Detroit River, University of Michigan- Dearborn, AKT Peerless Environmental Services) has a significant impact on the community and environment.
Project Timeline
The vessels and debris were removed in the spring and summer of 2011.
Are there plans for Fordson Island beyond this project?
The restoration of Fordson Island as a community park for passive recreation was first identified as a priority project by the US Army Corps of Engineers in 2003 and again in 2008 by the Rouge Area of Concern and the Rouge River Watershed Action Plan in 2009. This marine debris removal project is just one component. Continued work is dependent on future funding and the willingness of the community to make the restoration a priority.