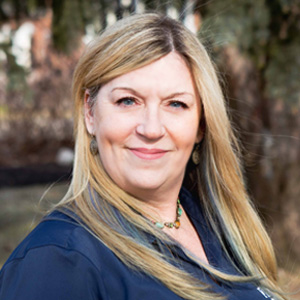 Karen Hanna serves as the Operations Director for Friends of the Rouge (FOTR), a non-profit organization dedicated to protecting and restoring the Rouge River in southeast Michigan. Karen began her career with Friends of the Rouge in 2002 as a part-time administrative assistant before expanding her duties to include coordinating Rouge Rescue, coordinating and managing fundraisers, and bookkeeping. A lifelong Rouge River watershed citizen, Karen welcomed the opportunity to work with an organization whose mission, values, and beliefs are consistent with her own.
During her tenure with FOTR, Karen refined her non-profit accounting skills and created processes and standards to establish consistencies in financial reports and tasks. She continues to successfully manage large major grants simultaneously, prepares for and assists with the creation of annual budgets and annual audits. In 2020, Karen negotiated Friends of the Rouge's first Indirect Cost Rate Agreement for federal agencies.
She has extensive knowledge of FOTR policies and procedures and has implemented many office accounting procedures in order to ensure accurate and efficient financial reporting and record-keeping in accordance with Generally Accepted Accounting Principles and Federal Office of Management and Budget (OMB) standards and guidelines.
Karen is currently working towards her Bachelor's Degree in Business Administration with a concentration in Accounting at the University of Michigan-Dearborn. When she is not working, Karen enjoys gardening, kayaking, and spending time with her family and friends.