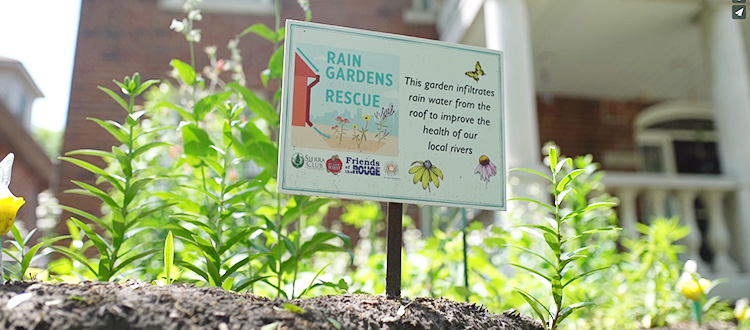 Rain Gardens to the Rescue
Rain Gardens to the Rescue Program
Partners: Sierra Club Great Lakes, Great Communities
Funded by: The Fred A and Barbara M Erb Family Foundation
Sewage and urban runoff are polluting Detroit's rivers. Detroit residents and civic leaders can prevent this pollution by putting Rain Gardens to the Rescue! The Rain Gardens to the Rescue program is a series of workshops designed to teach people about rain gardens and how to create rain gardens of their own. Support will be provided to install 10 rain gardens in Districts 1, 2 and 7 in 2018. As volunteers become more aware and engaged in the program our hope is that they will become rain garden ambassadors in the community – teaching others about rain gardens, assisting with rain garden plantings and spreading the message about the importance and need for rain gardens in the community.
2018 Application
Applications are due by April 13, 2018 to be considered for the 2018 plantings.
Detroit residents in Districts 1,2 & 7 (Northeast Detroit) are invited to submit an application for the Rain Gardens to the Rescue Program. This year you have two options to submit the application.
2016 Accomplishments
Press here for a full program report
19 residents attended the rain garden workshops

14 rain gardens were installed (A 15th garden will be installed in 2017).

10 gardens were installed in residential front yards, 2 at Alfred Brush Ford Park, 1 at Grace church of the Nazarene, and 1 in a vacant lot
91 volunteers (friends and family of rain garden participants) helped plant the rain gardens
The rain gardens will capture as much as 4,100 gallons of rainwater per rain event
2015 Accomplishments
20 Detroit residents attended a series of workshops to learn about rain gardens and their environmental benefits
12 residents received rain gardens of their own
1 public rain garden was installed at Cody High School
The rain gardens will prevent a minimum of 1,400 gallons of rain water from entering the combined sewer system – reducing sewage from entering the river and saving on the high cost of treating rain water mixed with sewage.
Rain Garden Templates