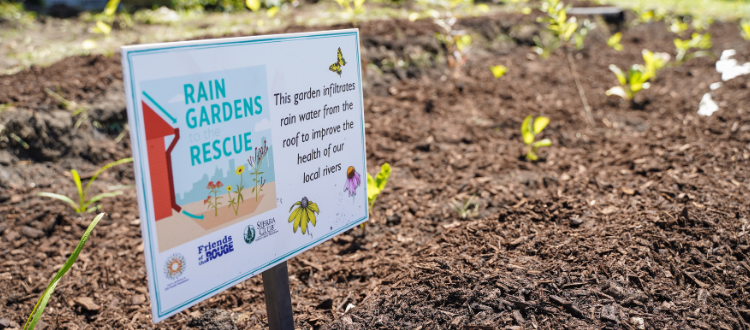 Rain Gardens to the Rescue
Partners: Sierra Club Michigan Chapter
Funded by: The Fred A and Barbara M Erb Family Foundation
2021 Virtual Rain Garden Tour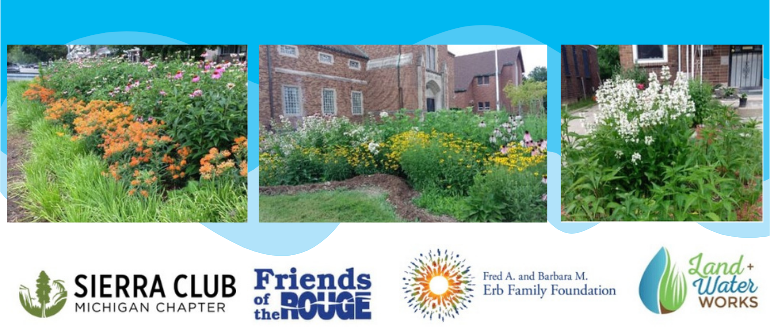 December 8, 2021 from 6-7pm
Join the 2021 Rain Gardens to the Rescue Virtual Tour! Learn about the benefits of rain gardens, the role they play in managing stormwater and programs available to help you get one of your own! Detroit residents, house of worship leaders and business owners encouraged to attend.
Sewage and urban runoff are polluting Detroit's rivers. We invite you to help prevent this pollution by putting Rain Gardens to the Rescue! Rain Gardens are a low cost solution to urban stormwater problems. They bring joy to our gardeners and help beautify the community.
Detroit residents and civic leaders can prevent the pollution of our Great Lakes from overflow of storm-water by putting Rain Gardens to the Rescue! The Rain Gardens to the Rescue program is a series of workshops designed to teach people how to create rain gardens of their own. As volunteers become more aware and engaged in the program our hope is that they will become rain garden ambassadors in the community – assisting others with rain garden plantings and spreading the message about the importance and need for rain gardens in our communities.
The Rain Gardens to the Rescue program is a series of 5 workshops and hands-on rain garden installations. The workshops are designed to teach you about rain gardens, their purpose and the steps to take to create a rain garden of your own. Garden installations provide an opportunity to educate your neighbors and family to do the same. Residents and institutions (i.e. libraries, activity centers, places of faith) are encouraged to apply to participate in the program.
Applications for 2022 program will be available in early spring, stay tuned!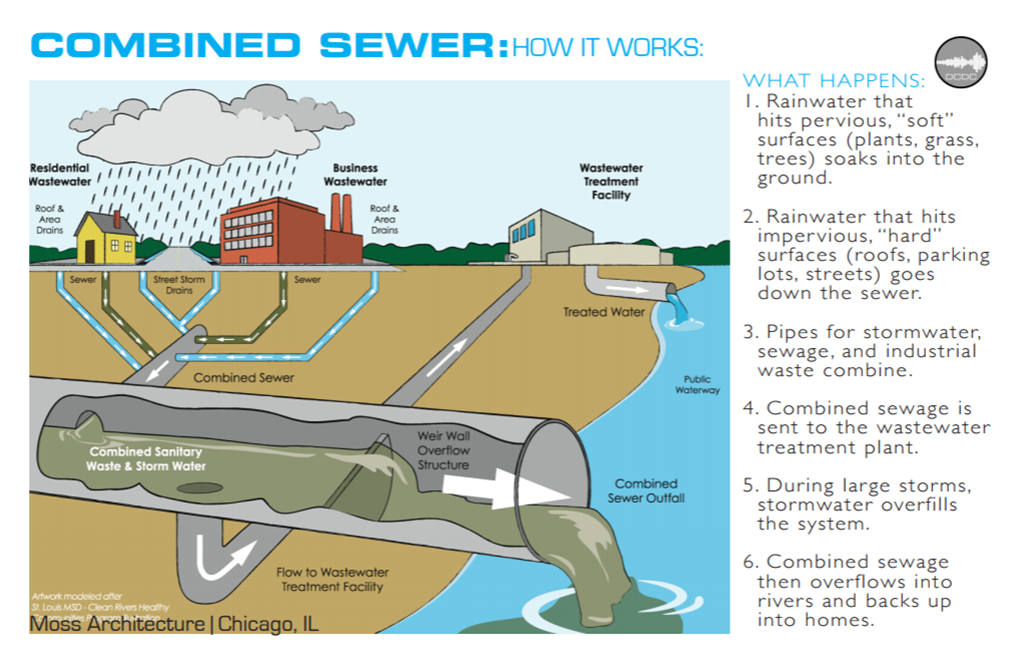 ---
2021 Workshops
This year's workshops focused on residents and non-profits in City of Detroit Council Districts 1, 3 & 5. In 2021, eight (8) gardens were installed, replacing 1,305 sq.ft. of lawn. These gardens take runoff from 5,279 sq.ft. of impervious surfaces (i.e. roofs) and store 7,338 gallons of rainwater each time it rains!
2015-2021 Rain Gardens Installed
110
active and engaged residents about the value and purpose of rain gardens
80 rain gardens
since 2015 that treat over 56,000 gallons of rain water per rain event
Over 700 people
in the installation of rain gardens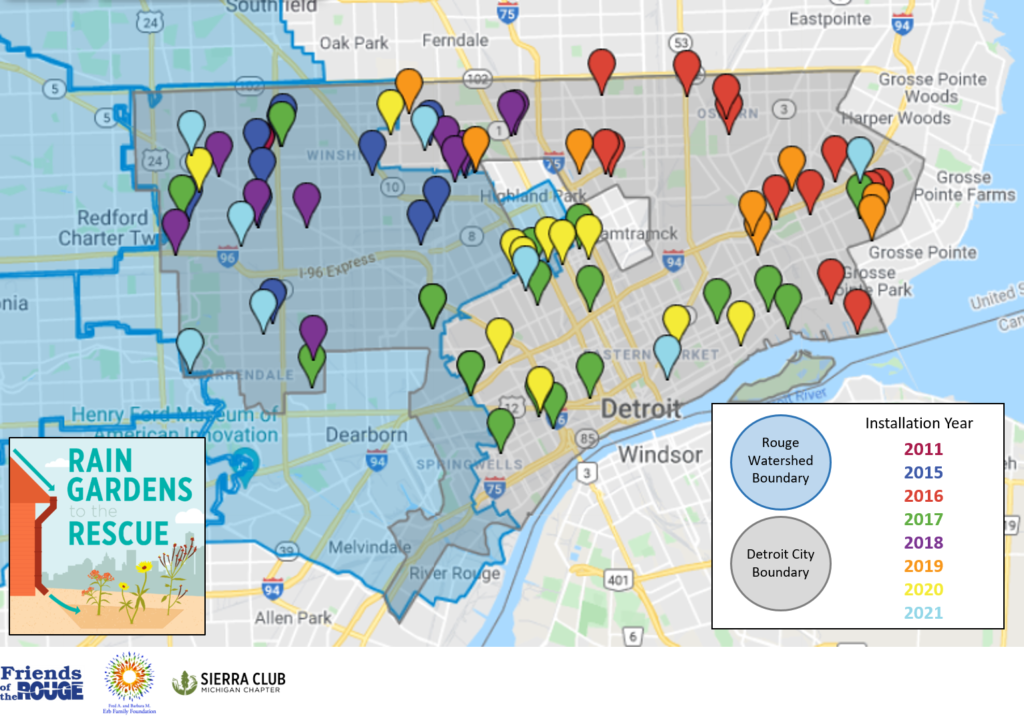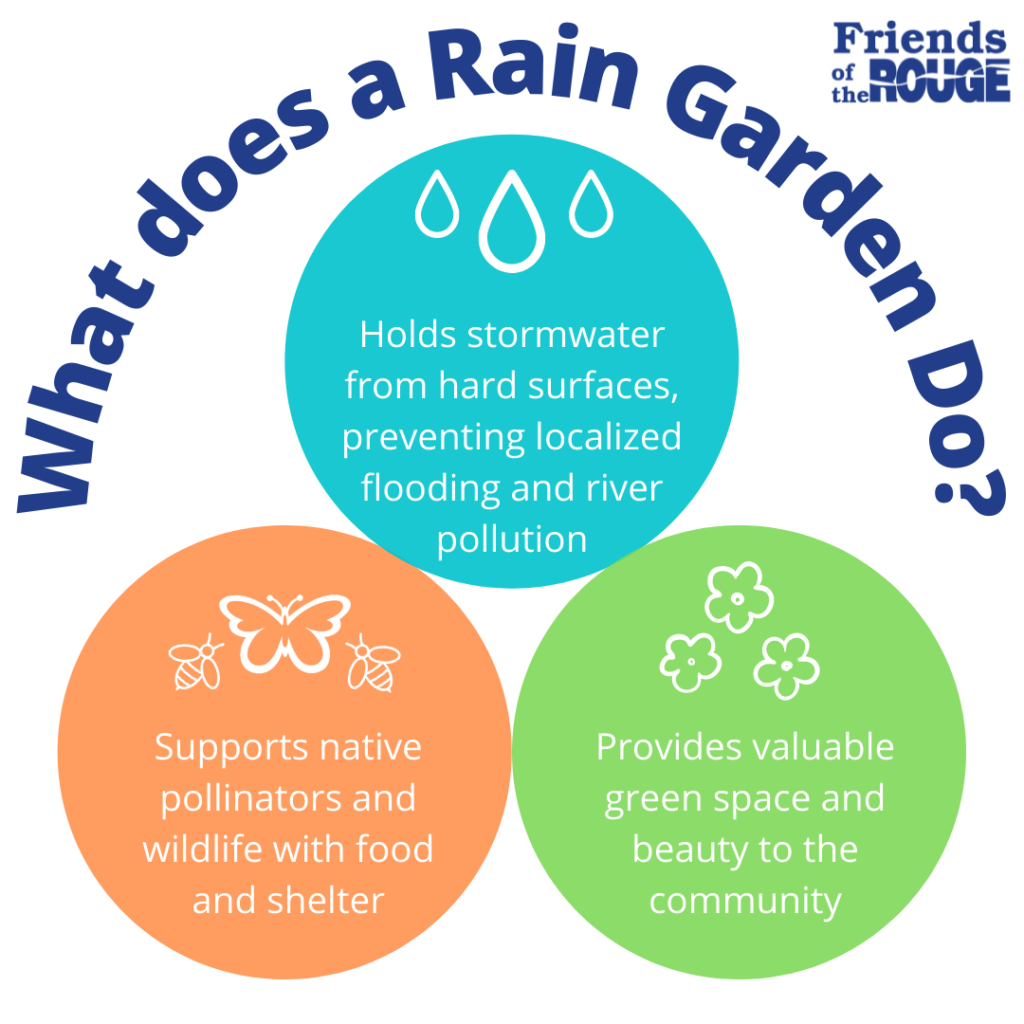 Quotes from Program Participants
"Participating in the rain garden program this year was meaningful in so many ways. It was great meeting fellow Detroiters engaged and invested in improving the infrastructure of the city, in small but significant ways. Second, it felt so good to focus on something other than COVID, working outside and getting our hands dirty. The classes were incredibly informative and inspiring, making me want to install a second rain garden in 2022. Working with the staff from Sierra Club and Friends of the Rouge was so effortless; they made the hard work of digging up the sod fun (well, sort of) and always had such positive attitudes. They were responsive and always supportive and encouraging. Last, I am truly appreciative of the City's commitment to improving the neighborhoods and providing Detroiters with opportunities and tools to improve our specific neighborhood. It was a great experience from start to finish."
-Carla Groh, 2021
"Installing a rain garden during a '500-year flood' gave me a deeper appreciation for the project. At first I was focused on the benefits it has for pollinators and was excited to have one less section of grass to cut. I knew about the relief rain gardens have on the city's stormwater infrastructure but this was made even clearer to me when you see the damage flooding has on homes and pollution in our lakes and rivers. The course itself was very educational. I believe it balanced support with allowing you to design and own the plans yourself. I was very impressed by the access to materials and tools, especially the wide variety of native plants to choose from. I look forward to seeing my rain garden fill in and bloom in the next couple of years. A big thanks to Friends of the Rouge and Sierra Club for the resources and engaging staff that made this project possible."
-Alicia Martinez, 2021