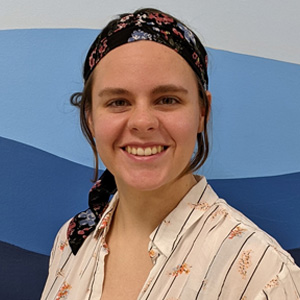 Sam Davis began as the Education & Monitoring Assistant in March 2022, a new position created to support the Rouge Education Project and the Monitoring Programs as well as other educational initiatives. She will be leading the Rouge watershed's European Frogbit surveys, coordinating speakers and events, supporting teachers, and assisting with fish and macroinvertebrate surveys and other monitoring.
Sam is passionate about helping individuals understand the importance of their natural surroundings, and the strength they possess to enact positive change for both their environment and for their community. It is because of this that she is enthralled with the work that Friends of the Rouge does with empowering communities through environmental education, and why Sam was drawn to this opportunity to give support to a fantastic cause.
Sam hails from Akron, Ohio, and holds a Bachelor's in Environmental & Conservation Biology with an emphasis on policy and management, and a minor in park management from Kent State University. After college, she entered into a national service term with the Appalachian Conservation Corps and then went on to gain experience in recreation management with the Ohio DNR. She accredits her passion for conservation and environmental education to participating in elementary-level school programs designed to immerse students in the outdoors and show them the complex beauty in nature.
Sam newly resides in southeast Michigan with her partner, Tori, and their cat (Twyla) and guinea pigs (Duncan & Dolce). In her free time, she enjoys staying active through sports, reading fiction books, and searching for the best coffee/pastries in town.