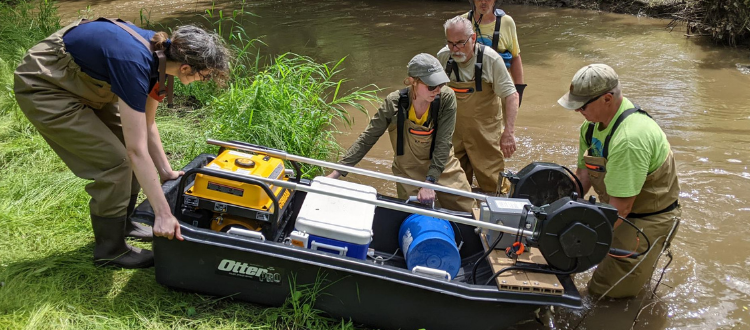 SHOCKING New Way to Survey for Fish
This summer, FOTR has been learning a new method of surveying for fish – electroshocking! This is the industry standard for most fish biologists. Thanks to UM student/ FOTR intern Olivia Williams and some DNR biologists, the fish surveying team has been learning to use a backpack shocker or a shocker on a barge to send electrical current into the water to momentarily stun fish so they can be netted. Like seining, this is a non-lethal method. Fish recovery is quick and fish are returned safely to the river after being identified and measured as is done with net surveys.
In the past, fish surveys have almost all been conducted with seine nets. FOTR will now be able to compare the two methods, each of which has its strengths. The biggest challenge has been how to haul a small boat ("barge") and a generator to the river in sometimes very difficult to access sites. A big thanks to the staff at Heritage Park in Farmington Hills who provided their golf cart and to the staff at the Dearborn Hills Golf Course who let us drive the truck into the course.
Attend the Heart of the Rouge fundraiser on August 11 to meet some of the surveyors and see a demonstration of electroshocking and seining!