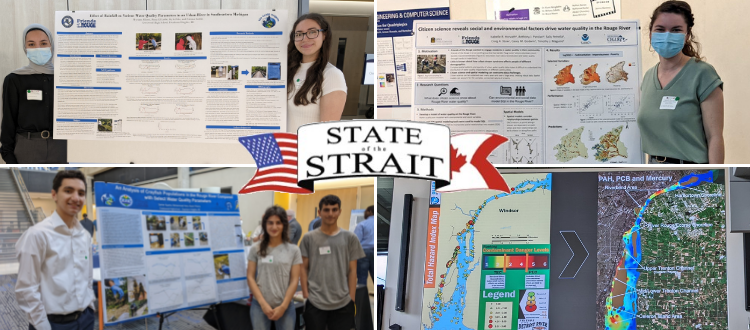 Student Research and Sediment Highlighted at State of the Strait Conference  
On May 11, the State of the Strait, a binational conference that highlights research on both sides of the Detroit River, gave students an opportunity to display and discuss their Rouge research. University of Wisconsin–Milwaukee PhD student Isabelle Horvath who analyzed FOTR's bug hunt data and three teams of Crestwood High School students presented posters and chatted with attendees about their findings along with other student researchers. The conference was held at the University of Michigan-Dearborn and featured an introduction from U.S. Representative Debbie Dingell who fondly recalled her Rouge kayak trip and how being out on the Rouge deepened her commitment to its restoration.
The conference focused on contaminated sediment. Detroit's role in building tanks and warships as the "arsenal of democracy" helped save nations but filled the lower Rouge and Detroit Rivers with the byproducts and wastes. Over seventy years later, the EPA and industry partners are finally prioritizing and funding the cleanup with remediation projects in both rivers mainly through the Great Lakes Area of Concern Program. The Rouge River Area of Concern has two sediment remediation projects. The channel around Zug Island is in progress and the river upstream to the turning basin is under study. These projects are expensive and complex to manage but will make a long-term difference in water quality for the Rouge. One conference-goer asked if cleaning up the "poop" from the Main branch's uncontrolled combined sewers could also be addressed.