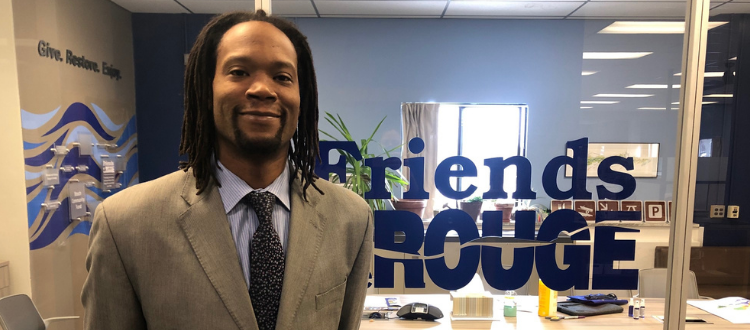 Welcoming Herman: Your Newest FOTR Team Member!
Friends of the Rouge is delighted to welcome Herman Jenkins, Jr. to the team as the new Trails Program Manager!

Herman Jenkins, a native Detroiter, credits the relationships with friends, coaches, and mentors in sports as the key underpinnings of his development as a youth. A standout at University of Detroit Jesuit High School, Jenkins earned a scholarship to play basketball at the University of Detroit Mercy where he earned a Bachelor of Arts in History. Jenkins is also a graduate of Wayne State University where he completed a Master's in Sports Management and Administration.
[Pick up where you left off on e-news below!]
Jenkins professional career began with the Detroit Tigers starting in Community Relations and over time moved to Strategic Planning. Jenkins helped establish Community Relations programming such as the Travelling Baseball Camps, Negro League Scholarship, and the Jackie Robinson Essay Art and Poetry Contest which the organization continues to this day. Jenkins also managed the development of the Tigers Diverse Business Partners program, an effort to be more inclusive of minority and women owned businesses in the team's procurement processes. All of this experience offers testament to his ability to work with a variety of partners, build community and develop effective programming.
Jenkins owns and operates FLYSHO CREATIVE, a digital content production company that specializes in branding corporate citizenship. FLYSHO CREATIVE's clients included Better Made Snack Foods, and most recently, Japanese software developer HULFT. Jenkins also co-owns 8325 Associates, Inc., a commercial real estate development company that specializes in affordable lease and co-working spaces. This experience has lent Jenkins extensive capability working with contractors, managing operations budgets, organizing community events and securing grant and corporate sponsorships to support programming.
Jenkins has also demonstrated a commitment to work in a myriad of ways to be a force for good in communities in and around the City of Detroit. In 2016, Jenkins was appointed to the Detroit Entertainment Commission (DEC), a chartered commission that advises Detroit City Council on methodology and best practices in utilizing entertainment, the arts, and sports to nurture community and economic development. Jenkins was elected to serve as Chairman of the DEC in 2017 and served in that role until leaving DEC in January 2020. The DEC is credited with the strategic visioning for the Detroit Recreation Department's City Walls mural arts program and creating the Spirit of Entertainment Award, the highest honor of achievement in the arts awarded by Council.
Former colleagues of Jenkins have described him as "a methodical, constant professional who bridges creativity with business … a delightful, approachable, intelligent, hardworking, dependable, well-rounded leader whose attention to detail and ability to connect makes him a hands-down-win."
Jenkins is thrilled to join the Friends of the Rouge Team as the new Trails Program Manager. "The Rouge Watershed is important because it impacts so many communities as the river and its tributaries drain our storm water overflows into the Detroit River," shared Jenkins. "I am intrigued and inspired by the idea of working to help transform the Rouge – to design and build trails – both blueways, and greenways – that serve as connective tissue for people living in these communities, often siloed from one another."
"Working with community groups and stakeholders to develop programs and activities, offers a unique opportunity to bring people and communities together around a currently underutilized and underappreciated natural resource," continued Jenkins.
Jenkins lives in Detroit with his wife Kimberly and daughters Ella (16) and Alia (8). "My family is important to me, so finding the right work and life balance equation is essential," Jenkins said. "I'm looking forward to the day my girls and I can kayak the Rouge or walk a new trail that FOTR has been instrumental in ushering into reality!"