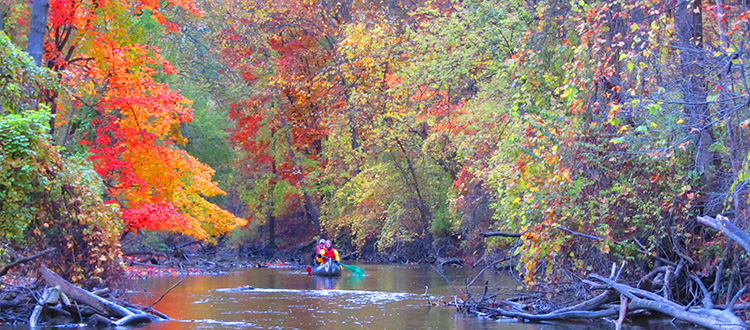 With over 1.35 million people residing in the Rouge River Watershed, the river has the potential to offer paddling opportunities close to home. Water quality has improved enough in many areas to be safe for partial body contact while more work is needed in other areas. Logjams also pose a significant challenge.
FOTR is currently working with local partners to develop a water trail on 25 miles of the Lower Rouge from Canton to the Detroit River. Much of the river corridor is protected within Wayne County Parks, making it ideal for the development of launches and amenities. Logjams block much of the route and current efforts are focused on keeping a route open within the City of Wayne. Downstream, logjams are less prevalent and paddling highlights the unique industrial history of the Rouge River with the massive Ford Rouge complex, suspension bridges and a freighter or two.
Press HERE for the full map of the Rouge Water Trail
Paddling the Rouge River
Map and Information about paddling
Check out our listing on the Michigan Water Trails website and plan your trip.
Check out our brand new guide to paddling the Rouge River, created with assistance from the National Park Service. Get a printed copy at the FOTR office or local liveries and communities.
Join our Facebook Paddling Group
Stay updated on what routes are open and who is working and paddling where.
Organized Trips
Sat. Oct. 7, 2017 Canoe the Lower Branch
This one and a half to two hour trip begins at 3600 Commerce Court in Wayne and travels through the wooded Lower Rouge Parkway, ending at Goudy Park in Wayne.
Sat. Sept. 16, 2017 Kayak the Industrial Rouge
This one and a half to two hour trip begins at the Melvindale Boat Launch, travels past the Ford Rouge complex, under historic suspension bridges, past Zug Island and the take out is on the Detroit River at Belanger Park in River Rouge.
Paddling on your own
For an easy paddle, during the warm months Heavner Canoe & Kayak Rental offers rental canoes and kayaks on the week-end at Newburgh Lake in Hines Park.
Rouge Water Trail Committee
Community partners are meeting and seeking funding to develop the trail. The meetings are held every other month on the third Thursday at 2:00 p.m. at Nankin Mills Nature Center. Here are some resources:
Michigan Water Trails Listing for Southeast Michigan