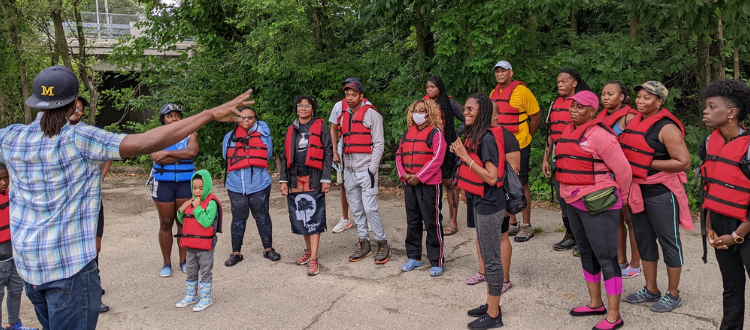 2022 FOTR & Outdoor Afro Paddle Trip
Over two dozen paddlers met this past weekend for the Friends of the Rouge Outdoor Afro Paddle Trip in Dearborn. Outdoor Afro hosts events that bring people of color together to experience and enjoy outdoor recreation activities. "We had a great turnout," said Candace Calloway, Event Organizer for Outdoor Afro Detroit. "The trip was awesome, so peaceful, and we had a great time."
As part of the Clean Boats Clean Waters grant program, Friends of the Rouge gave a presentation on Aquatic Invasive plants and marine life as well as the proper way to clean a boat before transferring from one body of water to another. Friends of the Rouge also raffled off a dry bag filled with goodies sponsored by Beaumont Health.
"We've grown the number of paddle trips we've hosted this year and we couldn't have been happier to build this event with Outdoor Afro," said Herman Jenkins, Friends of the Rouge Trails Manager. "It is our goal to create safe and equitable access to the Rouge. When people connect and have positive experiences with this river, they are more inclined to care about and protect the river. These events are built for fun, but we are also nurturing the next, Rouge Rescue volunteers, and rain garden owners, or woody debris workday volunteers. These events help grow the village."
The next FOTR paddle event will be on Saturday, September 17 along the Rouge Industrial Channel. Come see beautiful fall colors on the unique and historic stretch of the Rouge River!