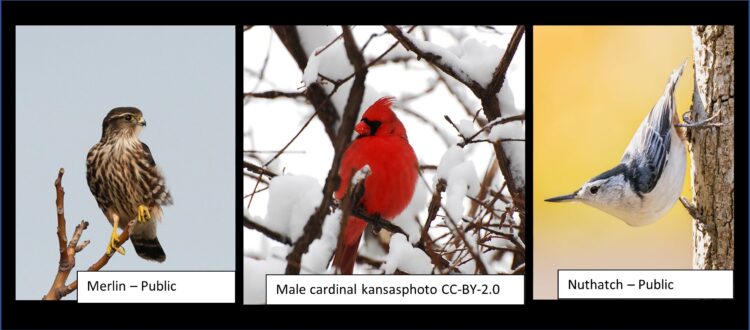 CREATURE FEATURE: January Birds
GET TO KNOW
Birds in Winter
A perusal of sightings from January 12th reveals a handful of backyard regulars (a robin, sparrow, starling, and cardinal), one raptor (a Merlin) and a collection of small, insectivorous birds such as chickadees and nuthatches. All in all, it was an interesting combination of sightings for a single day.
THE RAPTOR
There are three sub-species of Merlins found in North America. The taiga subspecies is the most widespread and the one most likely to be found in Michigan. Taiga Merlins are migratory, and most individuals spend the winter in the south. Yet, with overall global warming trends – and sufficiently available prey – some individual birds may delay, or even forego migration.
Taiga males display a pattern of grayish wings with mottled brown/white chest feathers while females and young birds have lighter brown wings. Like all falcons, Merlins are strong and swift fliers. However, unlike their well-known Peregrine cousins, Merlins do not engage in high-speed nosedives to capture prey. Instead, Merlins perch, flush, and capture prey (such as small birds and dragonflies) in level flight. And while most raptors are solitary hunters, Merlins are known to hunt cooperatively. One individual Merlin may serve as flusher while hunting partners chase down startled prey.
THE PREY FLOCK
Another interesting feature from the January 12th bird sightings is the combination of chickadees, nuthatches and small woodpeckers – plus a Carolina Wren and a Brown Creeper. At first glance, this combination may appear random and unrelated, but there is a very good chance these small birds were members of a "mixed flock."
In contrast to large single-species flocks (think thousands of starlings on a wire or gatherings of pretty pink flamingos), mixed flocks have well-documented patterns in which unrelated bird species join together for foraging. Such mixed flocks are informal and transitory, and often include only a smallish number of birds. A self-appointed leader – who is a member of the most dominant species present – will somehow rally the group, and the others follow along.
The sighted combination of chickadees, nuthatches, small woodpeckers, Carolina Wren, and Brown Creeper is a typical group in this region. This group is frequently accompanied by titmice and kinglets. Titmice and kinglets are also small insectivorous birds, and some may have been present – but unseen – on that day. Note that kinglets, especially, are very tiny birds that are only about the size of hummingbirds.
Within this type of mixed flock, a chickadee (or titmouse, if present) would typically serve as lead bird. Researchers believe individual participants in mixed flocks may gain some overall, synergistic advantage for foraging. Each individual species has different skill sets for finding potential food sites and for spotting predators. However, if the various species employ non-competing foraging techniques, everyone in the group remains a bit safer without getting in each other's way. Of course, there is a measure of safety in numbers, but there is no doubt that – on January 12th – the nearby Merlin was very well-aware of that small flock of tiny birds.
THE BACKYARD STANDARDS
As year-round Michigan inhabitants, starlings, cardinals, and many sparrows are always happy to supplement scarce winter food supplies with offerings from bird feeders.
With more than twenty different types of sparrows that call Michigan home for at least part of the year, the general term sparrow can refer to a great many birds. Two of the most common species that sport the stereotypical sparrow look (small, nondescript, brownish bird) are Song Sparrow and White-throated Sparrows.
TAKE ACTION
Worldwide, bird populations are declining due to overall habitat loss and widespread use of pesticides, herbicides, and other toxic chemicals. Insect populations are also declining for the same reasons, and since many birds are insectivores, declines in insect populations further harm bird populations. Additionally, birds often suffer from collisions with glass buildings and home windows, and from the disorienting effects of light pollution across migratory flyways.
There are many ways to help our feathered friends. In addition to planting appropriate native trees, shrubs, flowers, and grasses, it is important to refrain from spraying lawn chemicals. Additionally, grid patterns may be purchased and adhered to windows to reduce window collisions, and everyone can reduce the use of excessive outdoor lighting.
Overall, birds are some of the most beautiful creatures on earth, and our lives would be greatly diminished without them. Let us protect them while we still can.