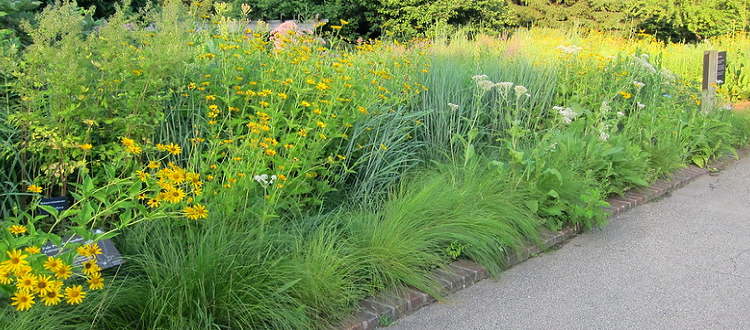 FLORA FEATURE – Replacing the Turf
Nicknamed "Capability Brown," Mr. Brown sold the British nobility – and much of the western world – on the concept of "the lawn." In Mr. Brown's concept, a lawn consisted of a uniform carpet of closely shorn grass that was occasionally dotted with a small pond or tree. However, such large areas of a single, closely-cut species was not a natural occurring feature of the British Isles; and, in the days, before lawn mowers, it required intensive hand cutting with scythes.
During his career, Capability Brown designed expansive lawns on the grounds of more than 170 manors across England. Never to be out done, the French nobility also latched onto the trend; and soon, the new American aristocracy followed suite. In 1806, Thomas Jefferson created a rolling lawn on the grounds of Monticello that was a showpiece for the new nation. Fast forward two hundred years, and the turf grass lawn is a defacto standard for the American home.
Unfortunately, a "perfect green lawn" is an artificial construct. It is an unnatural monoculture that requires excessive maintenance (and chemicals) while offering little habitat value for wildlife. Also, the various species of grass used for lawn seed are generally not native species. Even "Kentucky" bluegrass (Poa pratensis) is originally from Europe and North Africa – not Kentucky.
Fortunately, Americans are rethinking the concept of turf lawns. Pollinator gardens and rain gardens are catching on as we invite wildlife back to our neighborhoods while protecting our streams and rivers. And, in every good native plant garden, there is a room for a native grass or two.
Beautiful native grasslands, called prairies and savannahs, once covered 170 million acres of North America including portions of southeast Michigan. A victim of the plow, less than 4% remains today. You can experience the beauty of these in several local remnant prairies (Sibley Prairie Nature Preserve in Brownstown Township and Ojibwe Prairie Provincial Park in Windsor, Ontario) or the visit a restored prairie in the watershed in Detroit's Rouge Park. Read more about their role and the plan to re-establish more in the DNR's Michigan Wildlife Action Plan.
Unfortunately, many of the popular "showpiece" grasses sold at major retailers are non-native specimens such as Asian zebra grasses, South American pampas grass, Japanese hakone grass, African/Asian fountain grass, European cultivar "Karl Foster" grass, and European blue fescue. So be sure to check a local native plant nursery for interesting selections of our Michigan grasses. A few favorite native grasses are featured below.
FEATURED NATIVE GRASSES
TAKE ACTION
Replacing turf lawns with a variety of native plants, including native grasses, is a wonderful way to help protect and restore our watershed. Additionally, making a commitment to natural yard care (without the use of chemical fertilizers, herbicides, and pesticides) helps protect pets, pollinators, and other wildlife while reducing the amount of toxic run-off that flows into our streams and rivers.
Friends of the Rouge works with local cities and organizations and volunteers to design and install community rain gardens that are filled with a variety of native plants. See our planting schedule for opportunities to help plant/maintain gardens around our watershed. Help us restore vibrant communities of native plants across the Rouge River watershed.
Photo Credit: KM CC-BY-2.0 – Native grasses (prairie dropseed & switchgrass) and wildflowers at the Chicago Botanical Garden