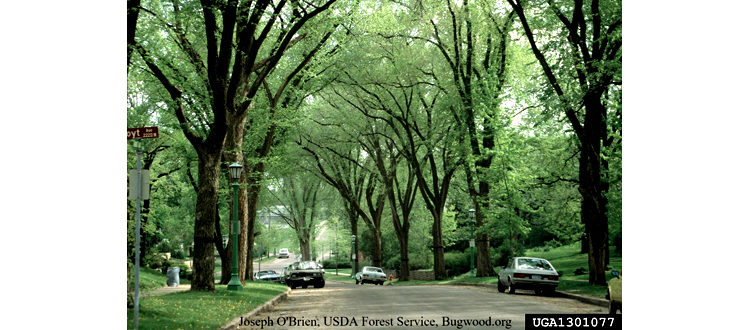 We all have a story to tell; why we are passionate about the Rouge River, how we got involved with FOTR… Share Yours Today!
By Colleen Sturm
6/3/2020 Livonia
As a young child in the early 1960's, I lived near the Ford Rouge plant and the Marathon oil refinery. For me, the river was nothing more than an ugly, polluted industrial channel that was avoided at all costs. That mindset stayed with me through the decades, and I never paid much attention to the river. I only became involved with FOTR a year ago after attending a Rain
Gardens 101 presentation at the library.
I am a gardener, and about 10 years ago I became an enthusiast of gardening with native plants. I try to garden for birds, bees, and butterflies. When my friend suggested we attend the Rain Gardens 101 presentation, neither of us even knew what a rain garden was. During the presentation, Matthew Bertrand (FOTR Restoration Coordinator) explained the problems with rain run-off in suburban and urban areas. He showed how the vast loss of the urban tree canopy from the 1960's through today contributed to so many environmental, flooding, and pollution problems. He presented the need for new solutions – such as rain gardens and demonstrated how important proper native plant cover is to all aspects of watershed health.
My big takeaway from the presentation was the discussion of tree canopy loss. It was a powerful message for me because I remember the wonderful tree canopy of Detroit in the 1960's. For those too young to remember, Detroit (and the inner suburbs) was once covered by beautiful and majestic American Elm trees. It was amazing, and there is nothing like it today. I remember beautiful streets lined on both sides by regal elms that created leafy cathedral ceilings. It wasn't just a few streets; it was most streets. I grew up under that canopy, and I loved it. I also remember the loss of it.
I was born in 1959, and for all my early years (1959 – 1967, I think) DDT was sprayed from helicopters. (We had to run inside if the sprayers came.) The government authorized widespread DDT spraying over Detroit (and the inner suburbs) to try to stop invasive beetles from spreading Dutch Elm disease. It was a bad time. DDT was so widely used back then that birds were dying off, and Rachel Carson wrote the famous "Silent Spring" book in protest.
I remember the summer the trees were cut down on our street. Dutch Elm disease claimed our street sometime around 1971. All the trees died, and all the trees were cut down – at the same time. The overnight change was devastating. It has been many decades, but I still miss the trees. What has been planted since has never compared in magnitude and beauty.
The elms are gone, but FOTR has been trying to preserve, protect and restore the Rouge River watershed since 1986. I hope to help a little.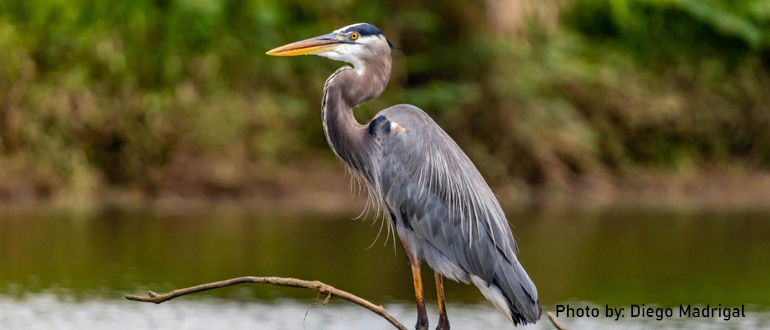 By Orin Gelderloos
5/20/2020 Dearborn
My experiences with the Rouge River watershed began intensely in 1971 when I directed a National Science Foundation grant for high school and middle school science teachers at the University of Michigan-Dearborn. Our group took a canoe trip on the River from the Henry Ford Estate to the Rouge Plant before the concrete channel was installed in 1975. We saw Great Blue Herons and Red-tailed Hawks and Belted Kingfishers perched in the trees. Floating down the River with us were green algae mats, up to a square foot in size, that grew on nutrients from the human sewage being discharged into the River from the combined sewer overflows (of course the odors went along with the sewage mats). Since that time, I have had the opportunity to teach numerous classes and study groups about the Rouge River as a watershed as well as lead bus tours of the landscape which comprises its drainage system. I introduced a graduate course on Watershed Analysis at the University as well. Currently, I am analyzing vascular plants and the groundwater levels of the various ecological communities of the floodplain on the UM-D campus.
The Rouge River is an excellent watershed for a Friends group because of the diversity of urban and rural people living in it. Furthermore, with its modest size of 467 square miles, we can "get our arms around it." Yet it has all the complexities that the United Nations has with differences in ethnicities, languages, income and education. Friends of the Rouge with its dedicated staff is a model non-profit organization of which I am pleased to be a member. I look forward to the time when our watershed can be a leading and unifying political entity for all the 47 communities in it.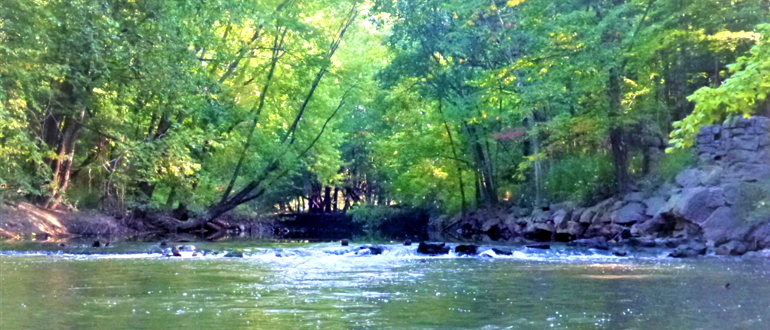 By John Covert
5/4/2020 Livonia
My Parents purchased a new home on West Parkway in 1947 when I was age 5. Our house was just north of Ann Arbor Trail. The Middle Rouge, called "The Crick" ran beneath a steep bank paralleling Ann Arbor Trail. I was fascinated by the Crick, I took my life in my hands every time I crossed Ann Arbor Trail, not because of the traffic but because my parents had forbidden me from playing there. A couple of years later, a neighborhood girl was lost falling thru the ice.
Throughout the ensuing years my family took regular Sunday rides along Hines Drive which then ran from Merriman Rd. to Northville. Over the years, Hines Drive progressed to the east, making stops at Telegraph Rd. and Outer Drive eventually reaching Ford Rd. in the late sixties. To a young kid Hines Parkway was like a wilderness, a continuous corridor of woods and water stretching for miles. When I started recreational flying as a retirement project I was shocked to discover that the parkway was merely a thin membrane of vegetation stretching thru miles and miles of, forgive me, urban wasteland. That is one of the reasons why I was so disappointed to see Wayne County selling parkland and mill sites to developers.
One fifties summer, I heard chainsaws and heavy machinery coming from the direction of the Crick. I took a seat at the top of the ridge and was fascinated to witness bulldozers and drag lines cutting a straight path across an extensive oxbow. An ecological catastrophe today but a fantastic triumph of engineering for a child of the fifties. If you drive Hines and observe carefully, you can find remains of many oxbows across from stretches of the river that appear unusually straight, the oxbow that ran upstream from Warren Rd. is still very prominent.
Life took me away from the Rouge during the sixties with Naval service and college at M.S.U. then brought me back when I was assigned a science teaching job at Whittier J.H. (now Cooper Elementary) across from an eventual Super Fund dumpsite (then Cooper Elementary) along Ann Arbor Trail, between Inkster Rd. and Middlebelt Rd. My classes made many rushed hikes (50 minutes) over to the big hill and along the Crick. We were amazed to find a beautiful grove of Pawpaw trees a little west of Inkster Rd. and the field next to old Cooper (now demolished) was an awesome site for netting and banding migrating Bobolinks.
The eighties found me high and dry teaching electronics (not my idea) at Churchill H.S. After a few years I convinced the principal to allow me to create a two hour outdoor education block. Once a week I was able to cram 18 kids into the back of a pick-up camper (never happen in this century) and make a short drive to the Holliday Nature Preserve. I was back on the Rouge (Tonquish Creek). With some help from fellow staff members, I was able to recruit 200 to 300 students every spring for the Rouge Rescue. Thirty to forty wildly enthusiastic kids pulling on an old ski resort tow rope could do quite a job on some of the log jams. Bill Craig (FOTR technical expert) was a big part of those efforts but he has since found more constructive applications for log jams.
I retired from teaching twenty years ago but never missed a Rouge Rescue, at least not until this year.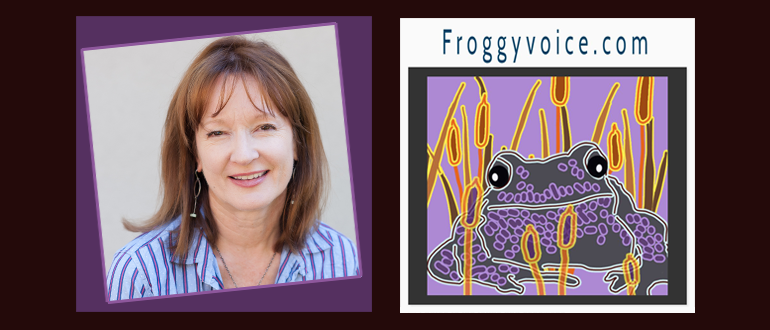 By Kathy Ableson
4/22/2020 Birmingham
Q: How did you get involved with Friends of the Rouge?
A: It was actually my son's idea. He wanted to do something to help the environment for a school service project so we both signed up for the Frog and Toad Survey. I remember being so impressed by Sally Petrella's training session, I left thinking this was an organization I'd really like to be a part of. Plus, it was kinda cool going out at night with my son to stand in the stillness at our listening posts. Beautiful spring evenings, citizen scientists, what could be better?
Q: What made you decide to create Froggyvoice?
A: Well, I started off with lots of enthusiasm for surveying but sadly, I wasn't very good at it. I just had a hard time remembering which calls were which frogs once I got in the field. This was back in the day when the only real choice was to learn the calls from a CD. Luckily my son was much better at it so we were okay with our reporting. But then years later, when I was looking around for a way to test some new app technology I'd been working with, I thought of field help for frog and toad surveyors.
Q: Why is it called Froggyvoice anyway?
A: When you go to get a new domain name, obviously it has to be unique. But all the names having to do with frogs and calls and Michigan were already taken, even if they weren't active. So I had to get creative and Froggyvoice just popped into my head. Which was fortunate really because the name gave me license to have fun with it, to draw bright colorful frogs and make them bounce when you tap the arrow. It was originally supposed to be just a small test app, maybe our seven SE Michigan frogs and our one toad, but each time I showed it to the subject experts, Sally Petrella, James Harding, Ian Ableson, and Jess Getschman, they persuaded me to add just that one more feature. They wanted all the Michigan frogs, identifying characteristics, info sheets, everything! It's really because of them that the app is as comprehensive as it is, but I hope it can help other surveyors out there or anyone else learning about Michigan frogs and toads.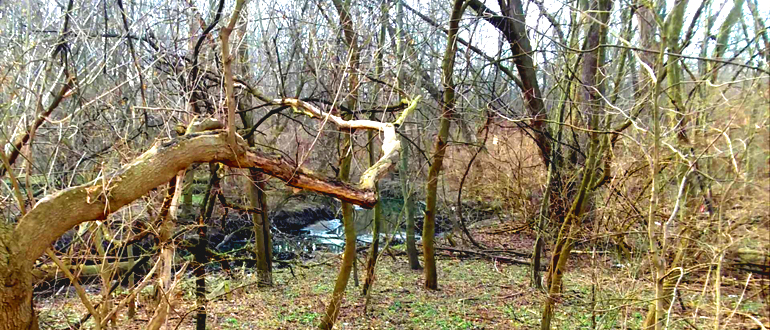 By Paula Trilety
4/8/2020 Detroit
Sally Petrella inspired me to get involved with supporting Friends of the Rouge. That and the fact that I grew up 1/2 block from Rouge Park and now live on W. Parkway, which abuts the park.
As a kid, our Ann Arbor Trail science teacher, Virginia Bohenek, took us on regular forays throughout the park and to the Nature Center in Rouge Park. We all developed a healthy respect for the environment under her watchful eye. The river, being a major attraction of the park, was closely observed during heavy downpours and major flooding.
The story of the Rouge River catching on fire about 20 years before was heart breaking to a kid who grew up in close proximity. Donating and promoting the Friends of the Rouge is the least I can do as I am indebted to all of the staff for their diligent efforts and success in cleaning up "my" river.
By Paul Draus
3/23/2020 Dearborn
Paul Draus, FOTR Board Member & Sociology Professor at UM Dearborn, shares his Rouge River story. We all have a story to tell; why we are passionate about the Rouge River, how we got involved with FOTR…Share Yours Today!