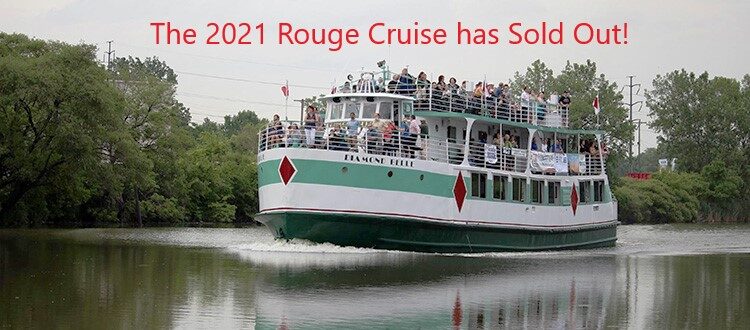 Register for the Friends of the Rouge
13th Annual
ROUGE CRUISE
Tuesday, August 17, 2021
6:00 to 8:30 p.m.
Member Price: $80 per person
Non-Member Price: $100 per person
Not sure if you're a current member or would like to become one? Please email Lara at ledwards@therouge.org for assistance! Or Become a Member today.
---
Join Friends for a unique Rouge River experience! Explore your urban river on a one-of-a-kind trip aboard the Diamond Belle with narration by
Dr. Paul Draus aka Captain Scruffy
Professor of Sociology – University of Michigan Dearborn
Boarding starts at 5:45 p.m. at Detroit's Stroh River Place Dock.
The Diamond Belle departs promptly at 6:00 p.m.
---
Thank you Rouge Cruise Sponsors!
First Mates
Cruisers
Dessert
Rouge Cruise Sponsorship Packages
The Rouge Cruise is Friends of the Rouge's primary annual fundraiser. Your support powers essential action and education for a better Rouge River. Select the sponsorship package just right for your organization. Then enjoy the impact that you make possible for a cleaner and more vibrant Southeast Michigan.
Or, if you would prefer to be invoiced, please contact Lara Edwards at ledwards@therouge.org.
Thank you for your support!
---
Parking Map / Directions and Route for Our Cruise
Directions and Parking
The Stroh River Place docking location is located at the end of Joseph Campau Street just past where it intersects with Atwater Street. Parking is available on site next to the docks ($5). (Press the image to enlarge.) Or, click here for more detailed directions.
Rouge Cruise Route
After departing from Stroh River Place, we will travel downstream and under the Ambassador Bridge before turning to head up the Rouge River. We will travel upstream in the Rouge as far as the turning basin at the Ford Rouge Complex before returning to dock at Stroh River Place. (Press the image to enlarge.)
Contact Lara for more information: ledwards@therouge.org