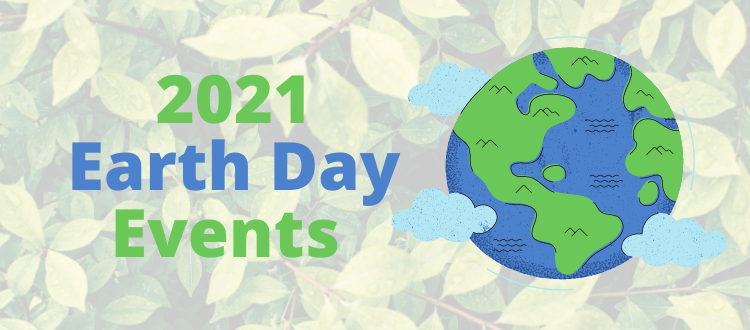 It's the 51st anniversary of Earth Day! Celebrate with us by helping out at a local cleanup event or joining a virtual webinar!
Merriman Hollow Workday
Sat, April 17, 2021
9:00 AM – 12:00 PM
Merriman Hollow Pollinator Garden, Hines Dr, Westland, MI 48185– Register Here
Help care for a native demonstration garden at the Merriman Hollow Recreation Area in Hines Park. Workdays are help through October, learn more at therouge.org/merriman-hollow-work-days. Volunteer space is limited to register now!

Sat, April 17, 2021
10:00 AM – 4:00 PM
REGISTRATION IS NOW CLOSED FOR THIS EVENT. We invite you to come along and hunt bugs with us! No prior experience is necessary but PRE-REGISTRATION IS REQUIRED. We need your eyes, hands, and boots on the ground! Learn more and check out our Fall Bug Hunt today at therouge.org/bug-hunt-events-and-trainings.
Sat, April 17 – Sat, April 24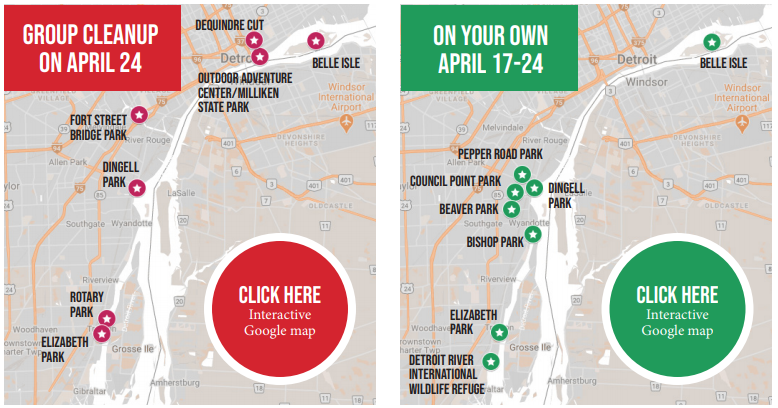 The Detroit River Coalition is holding in-person group cleanups on Saturday April 24 as well as encouraging people to get out from April 17-24 on their own along the Iron Belle Trail with marked dumpsters to drop of your trash. There is also virtual events throughout the week including Bingo, art and photo contests with prizes!
March 22 through April 22 – Photo AND Art Contests for Adults AND Youth
April 15 @ 10am – Virtual Kick-Off Event via Facebook Live (View on FOTR, DRC page!)
April 19 @ 6:30pm – Virtual Detroit River BINGO
April 20 @ 1-2pm – Habitat Restoration US & Canada Presentation
Sat, April 24, 2021
9:00 AM – 12:00 PM
Fort St. Bridge Park, 130 S. Fort St, Detroit, MI 48217– Register here
Friends of the Rouge will be holding a cleanup site at Fort St. Bridge Park and a few other sites along the Rouge River. Volunteers will check-in at Fort Street Bridge Park. Learn more at therouge.org/detroit-river-coalition.
Thurs, April 22, 2021
12:00 PM – 1:00 PM
VIRTUAL WEBINAR – Register here
Protect your home against flooding AND help birds, bees, and butterflies with a RAIN GARDEN! Get oriented and get going through the FREE livestream lunch & learn on Earth Day.
Thurs, April 22, 2021
7:00 PM – 8:30 PM
VIRTUAL WEBINAR– Zoom Meeting ID: 844 0054 2725, Passcode: 068271
This presentation highlights climate change impacts in the Great Lakes. Contact us at GINLC.education@gmail.com.

Sat, April 24, 2021
10:00 AM – 12:00 PM
Meet at the Stone Bridge Trailhead (map) – Register here
Limited to the first 25 registrants. All volunteers must pre-register and abide by Covid protocols. We will provide garbage bags, please bring your own work gloves and wear long pants, long sleeves and sturdy shoes.
Sat, April 24, 2021
9:00 AM – 12:00 PM
Goudy Park, 3498 2nd St, Wayne, MI 48184 – Register here
The Rotary Club of Wayne is partnering with Wayne Main Street and the Friends of the Rouge to conduct a city-wide cleanup of the roads and paths abutting the Rouge River. Do as much or as little as you like! You can pick up trash along the roads or trails, or do more. This project is an effort to make the city more walkable and beautiful.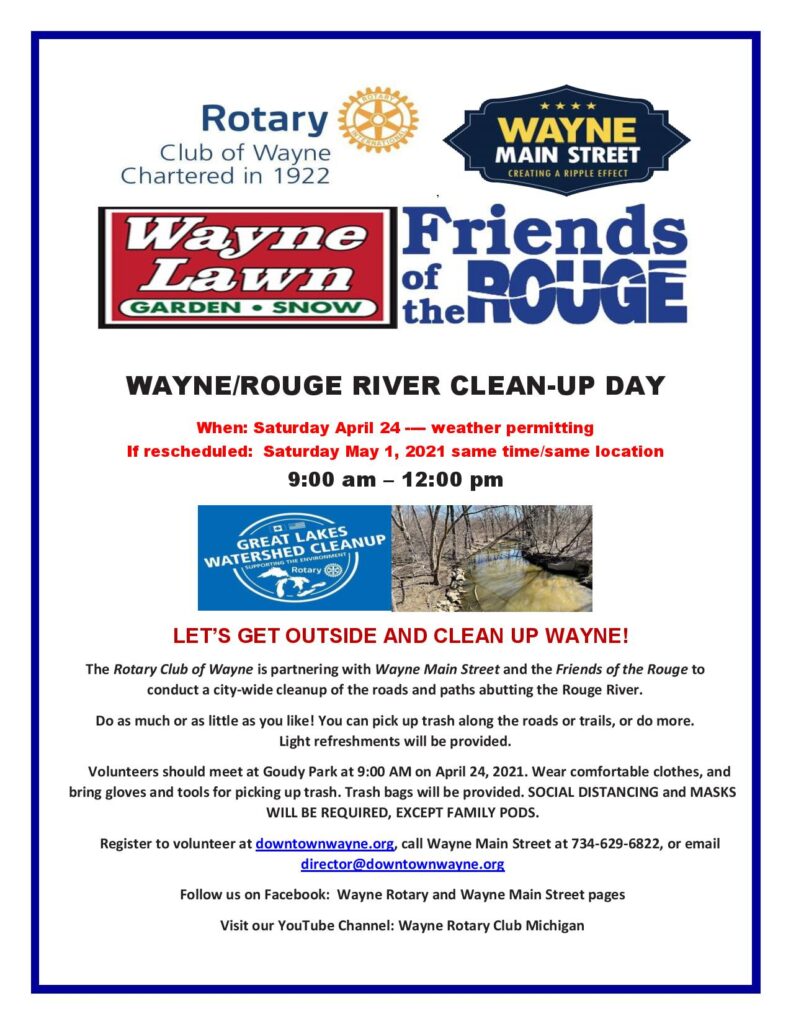 Grosse Ile Nature & Land Conservancy Island Clean Up
Sat, April 24, 2021
9:00 AM – 11:00 AM
Centennial Farm 25797 Third St. Grosse Ile, MI 48138
Volunteer with GINLC in this Kiwanis Annual Event as we clean up our protected lands. To register as a volunteer, or for more information, contact info@ginlc.org.