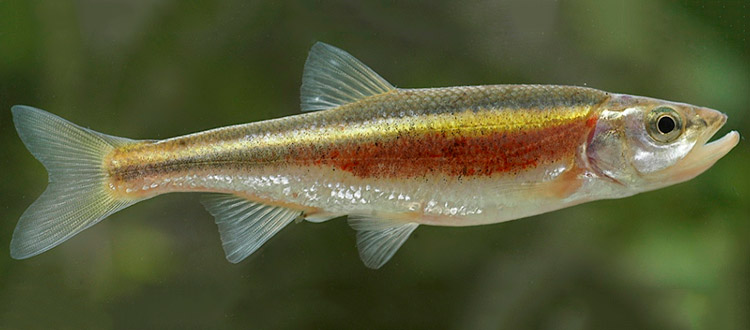 Redside Dace – A State Endangered Fish in the Rouge River
The redside dace (Clinostomus elongatus) is a sensitive and colorful minnow found in three tributaries of the Rouge River.  It requires cool clean water and feeds on flying insects by jumping from the water, two traits that may have led to its rarity in the state and listing as a state endangered species. Besides the Rouge, there is only one Lower Peninsula tributary (Bean Creek) and several Upper Peninsula tributaries to the Presque Isle River and Lake Superior where this sensitive fish is also found.
In 2012, Robert Muller and fellow UM-D student Kristina Blott surveyed three tributaries (Johnson, Minnow Pond and Seeley Creeks) that are known to be inhabited by the redside dace. The last records of the species were from 2005 in Seeley Creek and 2004 in Johnson Creek and the DNR's 2011 surveys turned up no fish.
Eleven sites in the Upper Rouge and 11 sites in Johnson Creek were sampled using seine nets in 2011 with the assistance of FOTR volunteers. Surveys found 2571 individuals, 21 species and 18 redside dace. An exotic mummichog was identified in Minnow Pond which led to the DNR removing this potentially invasive population.
Ten redside dace were found in three locations in the Upper Rouge (Minnow & Seeley Creeks and the Upper branch) and eight were found at only one location in Johnson Creek. The stocking of non-native brown trout in the Johnson Creek was discontinued after the survey found them to be negatively impacting the endangered dace. Read the entire report: 2012 Survey of Fishes in the Waters of the Middle & Upper Rouge River Historically Inhabited by the Redside Dace.