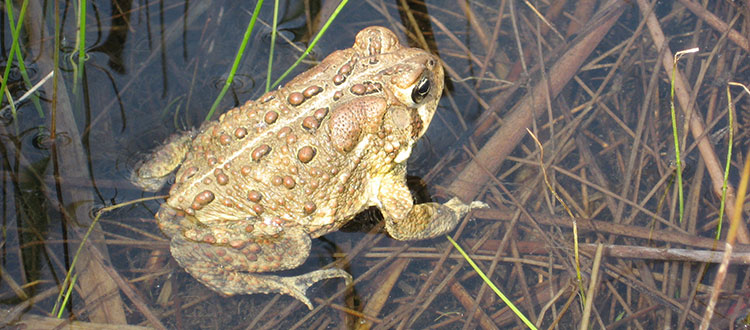 NOTICE: The Survey is March 1 – June 30. If you are interested in surveying in 2021, e-mail spetrella@therouge.org with your name, address and phone number.
Background
Amphibians are sensitive indicators of habitat quality and their presence or absence can be used to assess wetland health. Wetlands absorb and filter stormwater, helping to protect and clean the river. Wetlands also provide critical wildlife habitat. The presence of a diverse assemblage of frog and toad species is an indication of high quality wetlands. Calling amphibians (frogs and toads) can be readily surveyed through listening surveys.
Survey
In 1998, as part of efforts to assess wildlife habitat for the Rouge River Area of Concern Friends of the Rouge began training volunteers to survey for calling frogs and toads in the watershed.
The Rouge River Watershed Frog & Toad Survey is a volunteer listening survey. Volunteers are trained to distinguish the breeding calls of the seven frogs and one toad found in the watershed. Surveyors choose a quarter square mile area within the watershed that they survey independently on warm spring nights.
Presentation on Survey at 2020 Save the Frogs World Summit by Sally Petrella
Volunteering
Volunteers attend a two hour training workshop in the spring where they are instructed on frogs and toads of the watershed, their calls and how to survey. A call cd and the Rouge Frog & Toad Survey Participant's Guide are provided to all volunteer teams. Volunteers choose a survey block of a quarter square mile area with wetlands close to them to survey.
Surveys are done independently on damp warm evenings from March through July. Surveys involve listening for three minutes and noting which species are calling. Surveys must be done after dark several times a month. Completed forms are returned to Friends of the Rouge who compiles, maps and reports on the data.