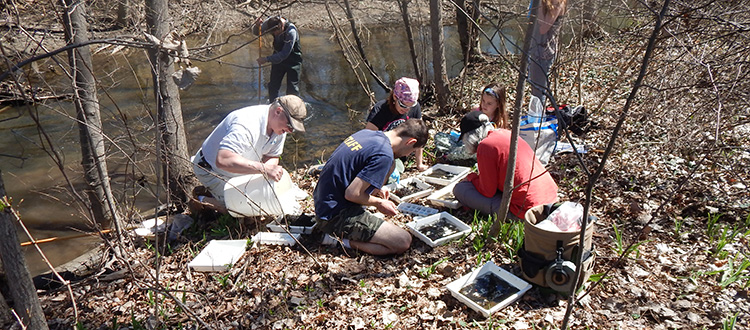 (Benthic Macroinvertebrate Monitoring) 
What is a Bug Hunt?
Do you ever wonder about what lives in the river besides fish and turtles? Come to one of our Rouge River Bug Hunts and see for yourself the amazing variety of aquatic insects, crayfish, snails and clams (technically known as benthic macroinvertebrates: animals without a backbone that live in the streambed) that make up the bottom of the river food chain.
Due to the COVID-19 pandemic, the Spring Bug Hunt was cancelled. The Fall Bug Hunt will be offered with additional protocols.
Volunteers visit sites throughout the headwaters of the watershed and search for mayflies, stoneflies and other aquatic invertebrates. The presence or absence of these streambed creatures reflects the quality of the water and habitat. Check out a map of sites.
Friends of the Rouge has been managing this program since 1998.
Help Support the Bug Hunts
---
How do I volunteer?
Bug Hunts are held in April and October . No prior experience is necessary but you do need to pre-register to be assigned to a team. Children five and older are welcome when accompanied by a participating adult. Groups of six or less can sign up together.
Once you have attended one event, you might consider increasing your level of involvement by attending training and learn to assist a team at future events.
What is a Stonefly Search?
In the winter we hold a Stonefly Search that is similar to the Bug Hunts except we only look for one type of bug. Stoneflies are very sensitive aquatic insects that hatch from streams in winter. See a map of sites that have been surveyed for stoneflies and results.
This program is certified by the Michigan Clean Water Corps with an approved Quality Assurance Project Plan.
Report Downloads