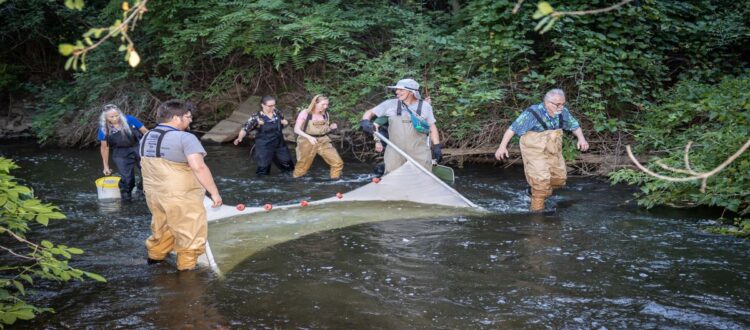 Rouge Rundown – August 24, 2022 – Fall Gardens | Native Plant Sale | You've Got Heart & MORE!
August 24, 2022
ROUGE RUNDOWN
It's Native Plant Time: Pre-order Your Flats by 9/7!

Fall is a great time to plant! Pick up your order on 10/1 near Eastern Market. Each flat comes with 38 plugs of one species, or get a big discount by ordering 3 flats. One flat covers about 65 square feet (three flats covers 200 sf). For most urban gardens, mass planting just a few native species is the easiest and most affordable way to create great looking gardens. Now is the perfect time to bring more birds and butterflies into your life!

Thank You for Putting Heart into the Rouge!

Thank you to the over 350 Friends who joined the celebration in support for your hometown River at the first ever, Heart of the Rouge: A Benefit on the Banks! Thanks to you, community partners, Friends, and sponsors, over $50,000 was raised for local action and education for a better River. That is a whole lot of impact!! Thank you for sharing the evening to make this event a success. Press the button below to see featured photos of the history tour, the Phoenix Mill, special guests the American Rosie the Riveter Association, the live fish demonstration, food by Brooks & Landry, beer from Bearded Lamb, and music by the Michigan Philharmonic Jazz Trio – and you, dear Friends!

Calling Rouge Heroes: Ready to Dig In?

This Friday, dig in on the final steps for a special rain garden project! Join Friends and complete the construction of a large rain garden at Bethany Lutheran Church in Detroit. This final step involves digging shallow trenches for downspout extensions. You bring the grit, love for clean water and your closed-toe shoes. Friends will bring the tools, gloves, food and drinks.

Date: this Friday, August 26

Site: Bethany Lutheran

Address: 11475 E, Outer Dr E, Detroit, MI 48224

Time: 9AM – Noon

Registration: not required but appreciated via the button below

Fall Rain Garden Builds and Spruce Ups

Check out upcoming opportunities to get your hands dirty building new rain gardens, or sprucing up current rain gardens. Your efforts make for a cleaner, brighter future for the Rouge River and for Rouge communities! Join in and discover the meditative calm of gardening with Friends.

Free Online River Education: For Students and Lifelong Learners!

Looking for at-home river education? Become a Rouge River Detective and explore local environmental issues in your community while working to solve them! The Friends of the Rouge Explore the Rouge activity has six self-paced learning campaigns that run off the WeSpire gaming platform. It's perfect for young folks and the young at heart. Join the fun for FREE!

Rain Gardens to the Rescue (RGttR) Plantings Kickoff

Planting has begun for the 2022 RGttR recipients throughout Detroit! RGttR is designed to educate and empower residents to build rain gardens to help manage and mitigate the effects of stormwater runoff. For participants, this means more neighborhood beauty, less street flooding, more songbirds & butterflies, and a cleaner River for us all! This program is in collaboration with Keep Growing Detroit, and the Sierra Club.

Take ARC's Water Quality Survey

YOUR VOICE MATTERS: Submit your perspective regarding water quality changes in the Rouge River to Alliance of Rouge Communities to help direct future activities. You are also entered for a chance to win a $100 Visa gift card just by completing the survey!

Upcoming Events

August- varying dates and times, DETROIT
Rain Gardens to the Rescue Garden Workdays

Fri. Aug. 26, 9am – Noon, DETROIT
Bethany Lutheran Rain Garden Build

Fri. Sept. 9 and Sat. Sept. 10, 9am – Noon, DETROIT

Mary Grove Rain Garden Workdays

Wed. Sept. 14 10am – Noon, PLYMOUTH

Plymouth Municipal Yard Rain Garden Spruce-Up

Thu. & Fri. Sept. 15 & 16, PLYMOUTH

Sat. Sept. 17 10am – Noon, PLYMOUTH

Sat. Sept. 17 2pm – 4pm, CANTON

Hulsing Elementary School Rain Garden Spruce-Up

Wed./Thu./Fri. Sept. 21 – 23, HIGHLAND PARK

Fri. Sept. 23 10am – Noon, SALEM

Rain Garden Spruce-up at Salem Township Hall

Sat. Sept. 24 10am – Noon, NORTHVILLE

Rain Garden Spruce-up at Moraine Elementary School

Thu./Fri./Sat. Sept. 29 – Oct. 1, REDFORD

Partner Events

Sundays NOW – Oct., 1-4pm, GROSSE ISLE
GINLC: Hike in Airport Natural Area

Sat. Aug. 27, 11am – 3pm, DETROIT

ECN: Photovoice Art Exhibition

Fri. Sept. 9, 9:30am – Noon, DETROIT
BIC: 'Second Fridays' Belle Isle Beach Cleanup

Sat. Sept. 10, 9am – Noon, ECORSE, LINCOLN PARK, WAYANDOTTE
ECC: Ecorse Creek Clean-up

From Your Friend, Matthew


Senior Restoration Coordinator

THANK YOU

2022 SUPPORTERS!