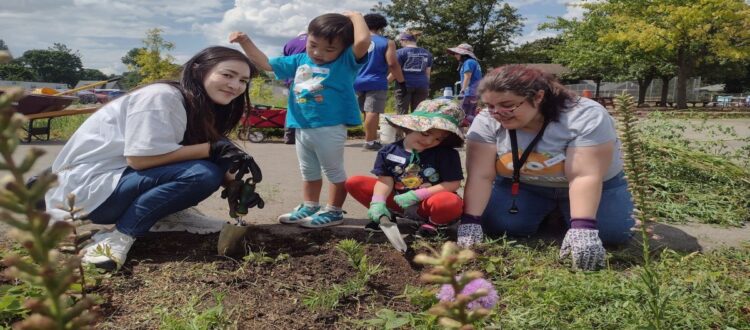 Rouge Rundown – September 7, 2022 – Your Urban River | Apply for A Rain Garden | Native Plant Sale & MORE!
September 7, 2022
ROUGE RUNDOWN
Last Call for Pre-Order Native Plant Flats: Get Yours by 9/7!

Fall is a great time to plant! Order your flat today for an in-person pick-up on 10/1 near Eastern Market. Each flat comes with 38 plugs of one species, or get a big discount by ordering 3 flats. One flat covers about 65 square feet (three flats covers 200 sf). For most urban gardens, mass planting just a few native species is the easiest and most affordable way to create great looking gardens. Now is the perfect time to bring more birds and butterflies into your life!

Funding Available for Your Rain Garden: Apply Today!

Do you dream of a home or community rain garden for you and your neighbors? Announcing funding for twelve new rain gardens. Apply through the link below for your low-or-no cost rain garden and make your dream a reality! Priority communities include: Detroit, Redford, Highland Park, and Dearborn's South End. A giant thank you to the National Fish and Wildlife Foundation for making this program possible.

You are Up to the Challenges of Monitoring an Urban River: Thank You Friends!

This spring and summer is shaping up to be one of the most successful monitoring seasons for your Rouge River. Thanks to caring volunteers and supporters like you: more than 200 wetland sites were surveyed for the invasive aquatic plant European frogbit; frogs and toads were monitored at over 100 blocks; and Rouge River fish were measured and identified at over 50 sites! The work was not always easy, with hot humid weather, logjams and long days. Yet teams rose to the challenge and got a deep satisfaction from adding to the body of knowledge on what makes this urban watershed tick.

Please consider joining a monitoring team and volunteering for the Fall Bug Hunt on October 15.

Share Extra LOVE for Rouge Trees this Fall

Love trees? Did you join Friends to reforest the Lower Rouge River this Spring? You can share even more love with these newly planted trees—and better ensure their survival for years to come. Volunteer with Friends to install weed mats that will support the growth of the 5,500 trees planted last spring and join the movement to reforest your River!

Pitch in on 9/14 at the Plymouth Municipal Yard

Make a big difference on behalf of a brand new rain garden! Can you pitch in on Wed. 9/14 at 10am at the Plymouth Municipal Yard? These new gardens need a little weeding TLC to help the baby plants become established, and do what they do best to support pollinators and to filter pollution.

Fall Rain Garden Builds and Spruce Ups

Check out upcoming opportunities to get your hands dirty building new rain gardens, or sprucing up current rain gardens. Your efforts make for a cleaner, brighter future for the Rouge River and for Rouge communities! Join in and discover the meditative calm of gardening with Friends.

FOTR Welcomes Two New Restoration Assistants – Rosina & Michael

Introducing your newest FOTR staff members, Rosina Newton and Michael Grady! Rosina joins the team with a wealth of plant knowledge and gardening experience. She is originally from Texas and received a Bachelor of Science in Horticulture/Floriculture from Texas A&M University.

Michael joins the team with valuable landscape experience and software skills. He is in the Master of Landscape Architecture Program at UofM and received his BA in Biology from Earlham College.

Take ARC's Water Quality Survey

YOUR VOICE MATTERS: Submit your perspective regarding water quality changes in the Rouge River to Alliance of Rouge Communities to help direct future activities. You are also entered for a chance to win a $100 Visa gift card just by completing the survey!

Upcoming Events

Wed. Sept. 7 5-7pm

Claude Allison Park Rain Garden Workday

18250 Beech Daly near the DPS Service Drive

Fri. Sept. 9 and Sat. Sept. 10, 9am – Noon, DETROIT

Mary Grove Rain Garden Workdays

Sat. Sept. 10 9am-12pm

Stream Habitat Assessment Training

Wed. Sept. 14 2pm – 4pm, PLYMOUTH

Plymouth Municipal Yard Rain Garden Spruce-Up

Thu. & Fri. Sept. 15 & 16, PLYMOUTH

Sat. Sept. 17 10am – Noon, PLYMOUTH

Sat. Sept. 17 2pm – 4pm, CANTON

Hulsing Elementary School Rain Garden Spruce-Up

Wed./Thu./Fri. Sept. 21 – 23, HIGHLAND PARK

Fri. Sept. 23 10am – Noon, SALEM

Rain Garden Spruce-up at Salem Township Hall

Sat. Sept. 24 10am – Noon, NORTHVILLE

Rain Garden Spruce-up at Moraine Elementary School

Thu./Fri./Sat. Sept. 29 – Oct. 1, REDFORD

Rain Garden Build at Pierce Middle School

Sat. Oct. 8 9am-12pm

Sat. Oct. 15 10am-4pm

Partner Events

Sundays NOW – Oct., 1-4pm, GROSSE ISLE
GINLC: Hike in Airport Natural Area

Fri. Sept. 9, 9:30am – Noon, DETROIT
BIC: 'Second Fridays' Belle Isle Beach Cleanup

Sat. Sept. 10, 9am – Noon, ECORSE, LINCOLN PARK, WAYANDOTTE
ECC: Ecorse Creek Clean-up

Sat. Sept. 10 1-4 pm, ROUGE PARK, DETROIT

Trail Dedication & Anishiinaabe & African Music, Dance & Drum Festival

Sat. Sept. 18 8:30am – 3:30pm, TRAVERSE CITY

Birds, Bikes & Wine with Detroit Audubon

Sun. Oct 9 2pm, ROUGE PARK, DETROIT

From Your Friend, Sally


Monitoring Manager

THANK YOU

2022 SUPPORTERS!