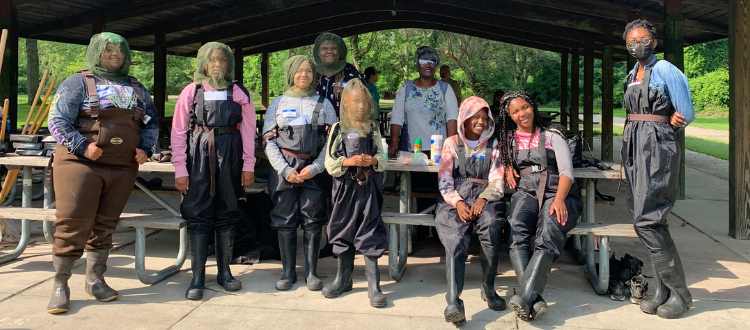 Rouge Rundown July 28, 2021
July 28, 2021
ROUGE RUNDOWN
STREAM Girls Certified at Inkster Park
On July 15, eight (8) girls from Inkster's Camp Inspire learned how to survey a stream, collect bugs and fish, tie a fly and cast a fly rod. FOTR partnered with Trout Unlimited to extend their STREAM Girls program to the Rouge River in 2021 and 2022. The girls braved mosquitoes and heat and enjoyed their first experience in waders. The goal of the program is to expose girls to fly fishing at an age when they often turn away from science and the outdoors.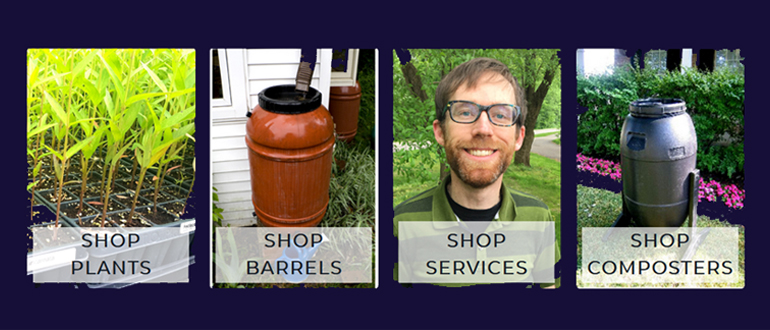 Native Plant Kits & Rain Barrels Now Available!
Native plant kits and rain barrels are BACK for the fall! Order by 8/11 for 8/28 pick-up in Livonia. Check out new lower prices on plant kits, the new Urban Garden Plant Kit featuring small plants for small spaces, AND the new Rain Barrel Starter Kit that includes a barrel, stand, and diverter.
Logjam Work on the Lower Rouge
Friends of the Rouge sends a huge thanks to its Woody Debris Warriors! A committed team of volunteers worked to open logjams on the Lower Rouge Water Trail. The crew worked at the fishway access bridge on the Rouge Gateway Greenway where recent storms piled wood and trash. "A lot goes into establishing a water trail. It's more than putting a boat and paddles in the water, especially on a waterway like the Rouge," said Herman Jenkins, FOTR Trails Manager. "[logjams] will always be a challenge for us. We are truly grateful to our volunteers who do this tough, hard work." Hope to see you at the next Woody Debris Workday!
Teacher Professional Development
Ready to get your students involved in river education and streamside water testing? We are offering four days of workshops for educators this August 2-5 (hold August 6 for a rain date). Save the dates, registration coming soon! This training is also open to volunteers & professionals interested in supporting students in riverside STEM education.
Rain Gardens 101—Solve Water Problems at Home!
Solve water problems at home and help birds, bees, and butterflies with a rain garden! On Thursday, Aug. 5 at Noon, get oriented and get going through the free livestream lunch & learn. Door prizes include a rain barrel starter kit, a Rainsmart consultation, and a native plant kit.
Redford Rain Gardens Installed
With funding from the city and the dedicated work of dozens of volunteers, Redford Township now has three (3) new rain gardens! Take a trip down Beech Daly to see the care and love put into these gardens:
Claude Allison Park (near the tennis courts): Each concentric ring of the garden contains a different plant rising up to meet you and become fresh habitat for all sorts of critters.
Lola Dr. and Beech Daly Rd: Despite being the smallest garden it has a lot of character in the plants that live there providing tons of flowers for pollinators like blue lobelia, horsemint and purple coneflower.
Redford Water Department: The garden space is long with a planting design focused on a red twig dogwood with radiating stripes of butterfly weed, blue indigo, and asters.
One Water- We are the Rouge!
The water we drink, the water we enjoy, the water we flush... It's all One Water, and it is ours to protect! The people of Southeast Michigan share in the benefits of our location at the heart of the Great Lakes. We also share a responsibility for the quality of our lakes, rivers, and streams as well as our drinking water, wastewater, and stormwater systems- it's all connected. Learn more at semcog.org/mionewater.
FLORA FEATURE: Replace the Turf
Unfortunately, a "perfect green lawn" is an artificial construct. It is an unnatural monoculture that requires excessive maintenance (and chemicals) while offering little habitat value for wildlife. Also, the various species of grass used for lawn seed are generally not native species. Even "Kentucky" bluegrass (Poa pratensis) is originally from Europe and North Africa – not Kentucky.
From Your Friend, Erin
Education Manager

Thank You 2021 Supporters!