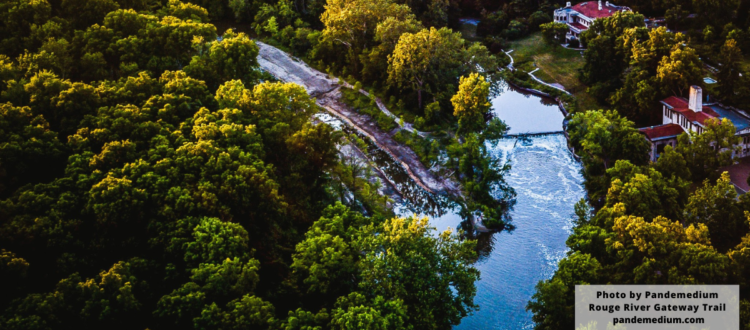 Rouge Rundown – October 10, 2022
October 5, 2022
ROUGE RUNDOWN
Plant Trees in Dearborn's South End

Spend a morning planting trees and leave your environmental legacy for decades to come! Join Friends of the Rouge and Wildlife Habitat Council for two tree planting half-days: Friday, Oct 14 (morning) & Saturday, Oct 15 (afternoon) at Lapeer Park in Dearborn. Trees clean water, reduce flooding, and make a more beautiful community.

In Search of the Endangered Lilliput!

Biologist and freshwater mussel expert Joe Rathbun joined Friends to search for endangered mussels on the Middle Branch of the Rouge River! After finding two state endangered/special concern species in the Lower Branch of the Rouge River last year, the search was on to find these rare indicators of good water quality in other locations in your River.

Apply Today for Your New Rain Garden: Funding Available!

Announcing funding for twelve new rain gardens! Turn your dreams of a new rain garden into reality with Friends! Apply through the link below for your low-or-no cost rain garden and make your dream a reality! Priority communities include: Detroit, Redford, Highland Park, and Dearborn's South End. A giant thank you to the National Fish and Wildlife Foundation for making this program possible.

Detroit River Water Festival With Friends of the Detroit River

Thank you Friends for supporting students connecting to their River! Friends of the Rouge was thrilled to engage with the next generation of River stewards at the Detroit River Water Festival. Detroit Public School students learned proper paddling techniques, safety, and how water quality relates to recreation on the Rouge River.

Fall Woody Debris Workday

Thank you to the amazing volunteers who opened a logjam at the Rouge Gateway Greenway Trailhead in Dearborn near the Fishway Bridge. Logjams aren't all "bad". They provide important habitat for fish and wildlife and play a role in stabilizing banks. For safe paddling, volunteers use methodology that opens "jams" without damaging the river.

Areas of High Poverty Suffer from Lower Rouge River Water Quality

In her recently published paper, PhD Student and former Friends of the Rouge Fellow, Isabelle Horvath found that higher poverty areas in the Rouge River watershed suffer from lower water quality than areas with higher incomes. Isabelle examined FOTR's citizen monitoring data scores (from "bug hunts") alongside socioeconomic factors with support from staff biologist and co-author, Sally Petrella. Areas with high poverty were more likely to have poor macroinvertebrate scores and be impacted by uncontrolled combined sewer overflows and industrial discharges.

Share Extra LOVE for Rouge Trees this Fall

Love trees? Did you join Friends to reforest the Lower Rouge River this Spring? You can share even more love with these newly planted trees—and better ensure their survival for years to come. In October, volunteer with Friends to install weed mats that will support the growth of trees planted last spring and join the movement to reforest your River!

Love Your River? Sign-up to Volunteer with Friends this Fall!

Are you looking for ways to get involved this Fall? Join Friends to get your hands dirty for clean water! You are invited to build new rain gardens and spruce up existing rain gardens. You can be the difference for a cleaner, brighter future for the Rouge River and for your community! Sign-up today and discover the meditative calm of gardening with Friends.

Rouge River Revived: A New Book on Your River, Featuring FOTR Authors

Rouge River Revived: How People Are Bringing Their River Back to Life is now available for direct order!

"The subject is of national significance in that the Rouge River was once one of the most polluted watersheds in America. Its well-documented and well-told stories are beacons of hope in difficult environmental times."

Order your copy today! Save 30% with promo code: UMF22

Meet FOTR's Newest Board Member – Jeremiah Steen

Jeremiah is a development associate of institutional giving for the National Audubon Society. He is also director of the Steen Foundation, an organization Jeremiah founded to positively impact the socialization of youth, promote strong inquisitive thinking, and help teens to advance their view of community through a creative perspective. Jeremiah serves on the Board of Directors for TrashMob.eco and EEqual.

Upcoming Events

Friday, Oct. 7, 9am-Noon, REDFORD

Sat. Oct. 8, 9am-Noon, LIVONIA

Sat. Oct. 8, 9am-Noon

Sat. Oct. 15, 10am-4pm

Sat. Oct. 22, 9:30am-12:30pm, DEARBORN

Partner Events

Sundays NOW – Oct., 1-4pm, GROSSE ISLE
GINLC: Hike in Airport Natural Area

GINLC: Take it outside Photo Contest

Sunday, Oct. 9, 12-3pm, PLYMOUTH

Sunday, Oct. 30, 1-3pm, GROSSE ISLE

GINLC: The Nature of Halloween

Saturday, Oct. 29 3pm

Fall Color Walk, Rouge Park, Detroit, Scout Hollow

Wednesday, Nov. 2 9am, CANTON

Creating Habitats for Pollinators Fund: Plant a Pollinator Garden by Seed

E-mail Dave for more info and to register

JOB LISTING: Huron-Clinton Metroparks Hiring a Community Outreach Interpreter – Science Project Facilitator Apply Here

From Your Friend, Cyndi

Restoration Manager

THANK YOU

2022 SUPPORTERS!