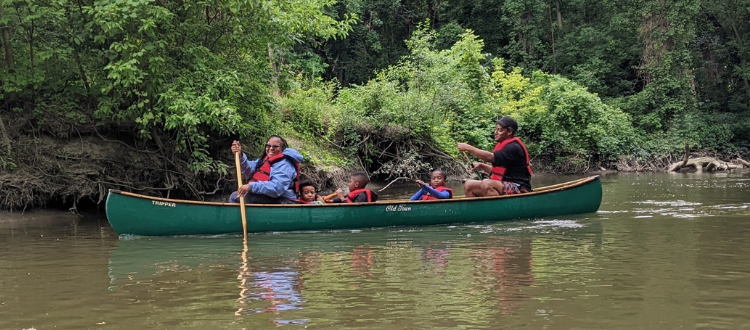 Rouge Rundown – July 27, 2022
July 27, 2022
ROUGE RUNDOWN
Rain Gardens 101: Thursday 7/28 @ Noon

Protect your home against flooding AND help birds, bees, and butterflies with a RAIN GARDEN! Get oriented and get going through the

FREE livestream lunch & learn

on

Thursday, July 28th at Noon

. Door prizes include a free rain barrel and a free consultation!

NOW HIRING: Restoration Assistants

Want to expand your knowledge of the environment and restoration by assisting with stormwater management? Want to help improve community green space that supports wildlife? We are hiring TWO restoration assistants, a part-time, hourly position. Deadline to apply:

July 31, 2022

.

Rouge Store: Next Pick-up Date on 10/1

Did you know?

Fall is one of the best times to plant!

Save the date for

October 1st

and join Friends of the Rouge at the Keep Growing Detroit farm near Eastern Market in Detroit for the final 2022 rain barrel and native plant pre-order sale. You'll also be able to shop for end-of-season bargains from several participating native plant nurseries.

FOTR & Outdoor Afro Paddle Trip

Over two dozen paddlers met on July 16th for the Friends of the Rouge and Outdoor Afro Paddle Trip in Dearborn. Outdoor Afro hosts events that bring people of color together to experience and enjoy outdoor recreation activities. "We had a great turnout,'' said Candace Calloway, Event Organizer for Outdoor Afro Detroit. "The trip was awesome, so peaceful, and we had a great time."

The next paddle event will be on Saturday, September 17 along the Rouge Industrial Channel.

DNR Collaborates with FOTR

FOTR seeks to examine all parts of the Rouge River watershed. As you can guess, some spots are harder to access than others. DNR fish biologist John Buszkiewicz (above right) arranged a ride for your Friends Team on the DNR boomshocking boat to access some of the deeper parts of the river. John and fish technician Dennis Tar (above left) worked alongside Friends to sample fish from the concrete channel, the oxbow and just below the Fair Lane Estate Dam and soon-to-be-opened fishway. Fish species seldom seen upstream were found and important data was collected on how fish are faring in this part of the river as water quality improves. Thank you, John and thank you Friends for making this vital work possible!

FOTR & EHRA Engage Students in Science

Students from the Environmental Health Research-to-Action program—sponsored through University of Michigan - Dearborn—met at Ford Field to explore water quality testing with Friends' staff members, Erin and Sam. Twenty high schoolers and next gen leaders gathered River samples to measure pH, nitrate, and phosphate levels and measure the health of your Rouge River.

HEART OF THE ROUGE: For a Better Rouge River!

You are warmly invited to Friends of the Rouge's NEW fundraising event - in lieu of the Rouge Cruise - the Heart of the Rouge!

Enjoy delicious food, local brews and music by the Michigan Philharmonic Jazz Trio as you experience the newly restored, former all-woman's factory, the Phoenix Mill!

Date: Thursday, August 11

Time: 6 - 9 PM

Where: Phoenix Mill, 15000 Edward N Hines Drive, Plymouth, MI 48170

Free Online Summer River Education

Looking for at-home river education this summer? Become a Rouge River Detective and explore local environmental issues in your community while working to solve them! The Friends of the Rouge Explore the Rouge activity has six self-paced learning campaigns that run off the WeSpire gaming platform. It's perfect for young folks and lifelong learners- Join the fun for FREE!

Take ARC's Water Quality Survey

YOUR VOICE MATTERS: Submit your perspective regarding water quality changes in the Rouge River to Alliance of Rouge Communities to help direct future activities. You are also entered for a chance to win a $100 Visa gift card just by completing the survey!

From Your Friend, Jaclyn


Restoration Coordinator

THANK YOU

2022 SUPPORTERS!