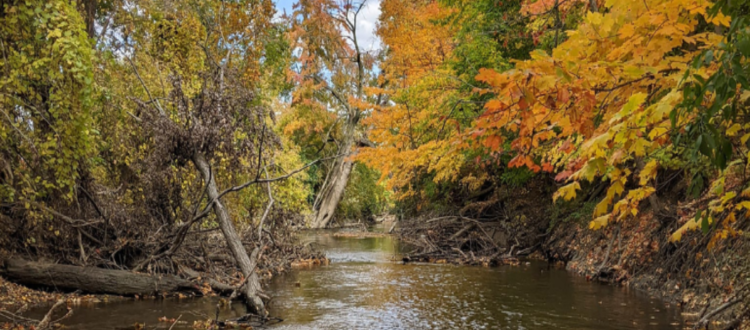 Rouge Rundown – October 19, 2022
October 19, 2022
ROUGE RUNDOWN
50 Years of Cleaning up this Nation's Water

What does clean water mean to you? On October 18, 1972, the U.S. Congress overrode President Nixon's veto to pass the Clean Water Act. Legislators from both parties came together to pass this bill "to restore and maintain the chemical, physical and biological integrity of the Nation's waters," agreeing that this nation could absorb the costs of cleaning up pollution despite Nixon's veto over "spiraling prices and increasing onerous taxes." Without the commitment of these lawmakers to cleaning up the waters, the Rouge might still be untouchable, let alone paddleable!

Recent news about oil spilIs, PFAS and hexavalent chromium and sewage into our local rivers might have gone unnoticed or ignored if not for the Clean Water Act standards and regulation. In honor of the anniversary, Michigan's Great Lakes and Energy is offering a webinar series discussing the challenges of continuing to put this legislation into place. Check out their focus on the Rouge River.

Apply Today for Your New Rain Garden: Funding Available!

Announcing funding for twelve new rain gardens! Turn your dreams of a new rain garden into reality with Friends! Apply by October 31 and receive priority status, through the link below for your low-or-no cost rain garden, and make your dream a reality! Priority communities include: Detroit, Redford, Highland Park, and Dearborn's South End. A giant thank you to the National Fish and Wildlife Foundation for making this program possible.

Community Scientists Return to the River

What's living in your river? Thanks to your support, the 21st Annual Fall Bug Hunt brought out a record number of volunteers, checking up on the aquatic life in the river at 31 sites across the Watershed.

The current moderate drought—in sharp contrast to the 2021 floods—left some streams almost dry or just a series of disconnected ponds. Scientists will now examine the collected specimens, so look for your report on what the bugs are telling us about river health, soon! And, you are warmly invited to join the fun at the next monitoring event—the January 21st Stonefly Search!

A warm thank you to the eleven communities that sponsored local sampling: Beverly Hills, Canton Twp, Farmington, Livonia, Northville Twp, Novi, Plymouth, Plymouth Twp, Southfield, Troy, & Washtenaw County with four teams from Wayne State University.In addition, University of Michigan-Dearborn graduate students sampled a site as part of their class fieldwork.

Birding Paddle Trip with Detroit Audubon

Birds, lakes, and paddles, oh my! The 1st of it's kind Birding Paddle trip in partnership with Detroit Audubon was a great success! Thank you to the paddlers that joined this special trip. Birds sited on Newburgh Lake, included: Cooper's Hawk, Belted Kingfisher, Mute & Trumpeter Swans, Yellow-rumped Warblers, Ruby-crowned Kinglets, Downy Woodpeckers, Mallards, Wood Ducks, Cardinals, Blue Jays, American Crows & Ring-billed Gulls. There is just one last chance to paddle with Friends this year. Register below to join the fun for the Haunted Paddle…if you dare!

Leave the Leaves this Fall: You Can Save the Butterflies!

Did you know that a majority of butterfly and moth species overwinter in leaves? Some species even disguise their cocoons and chrysalises as dried leaves. Rather than shred your leaves with a mower or rake leaves into bags—pile leaves in your garden beds, under trees or in your yard. You'll be saving wonderful mulch for your gardens as you save the butterflies and moths. Simply leave the leaves!

Get Ready for Spring Gardening!

Are you planning for your spring garden or looking for a great gift idea? The Rouge Store is now OPEN for pre-orders for Spring 2023! Pick out your native plant kits and rain barrels for you or a loved one ahead of the spring gardening season.

Rouge River Revived: A New Book on Your River, Featuring FOTR Authors

Rouge River Revived: How People Are Bringing Their River Back to Life is now available for direct order!

"The subject is of national significance in that the Rouge River was once one of the most polluted watersheds in America. Its well-documented and well-told stories are beacons of hope in difficult environmental times."

Order your copy today! Save 30% with promo code: UMF22

Upcoming Events

Sat. Oct. 22, 9:30am-12:30pm, DEARBORN

Sat. Oct. 22, 9:00am-Noon, WESTLAND

Partner Events

Sundays NOW – Oct., 1-4pm, GROSSE ISLE
GINLC: Hike in Airport Natural Area

GINLC: Take it outside Photo Contest

Sunday, Oct. 30, 1-3pm, GROSSE ISLE

GINLC: The Nature of Halloween

Saturday, Oct. 29 3pm

Fall Color Walk, Rouge Park, Detroit, Scout Hollow

Wednesday, Nov. 2 9am, CANTON

Creating Habitats for Pollinators Fund: Plant a Pollinator Garden by Seed

E-mail Dave for more info and to register

JOB LISTING: Huron-Clinton Metroparks Hiring a Community Outreach Interpreter – Science Project Facilitator Apply Here

From Your Friend, Herman

Trails Manager

THANK YOU

2022 SUPPORTERS!