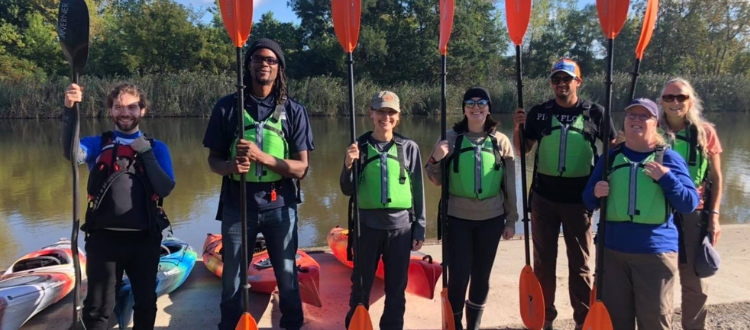 Rouge Rundown – October 6, 2021
October 6, 2021
ROUGE RUNDOWN
Master Rain Gardener—Apply by Oct. 11 for Discounted Registration Rate
This October, you have two opportunities to train to become a Master Rain Gardener! Pick the method that works best for you & your schedule: in-person or virtual. The in-person course meets in Plymouth. The virtual course is a separate class held for online students via Zoom. Both include in-person, outdoor rain garden tours. Now's the perfect time for you to design an inspiring rain garden for your home. Pick your learning style and become a Master!
Last Chance! PARC Stormwater in its Place
Ready to be the difference for a cleaner Rouge River? You can create beautiful rain gardens with Friends at the Friends of the Rouge office in Plymouth! The new gardens will soak up over 3.25 MILLION gallons of water per year, create butterfly & songbird habitat and reduce local flooding! Come build your environmental legacy. Friends are ready for you!
Thur. Oct 7, AM (full) and PM
Fri. Oct 8, AM and PM
Join the Pocket Park Party!
You can be a part of the transformation of an empty lot in Detroit's south side to a vibrant green space! Experience the "Instagram-worthy" park pathway created in the shape of the Prince's Love Symbol as you plant a greener future with Friends!
Fri. Oct 22, 3-6pm
Sat. Oct 23, 9am to Noon
Detroit Free Press Marathon- Run for the Rouge!
Runners, Walkers, Shufflers of Detroit - are YOU READY? The Detroit Marathon is here!!! Select Friends of the Rouge as your organization to run for on October 16 and 17. Each step you take makes a clean water future possible! Not a runner? Not a problem! You can donate to runners' campaigns without breaking a sweat. Set your sights on the finish line!
Come Paddle With Friends!
Come and paddle an open stretch of the Lower Rouge River Water Trail in Dearborn. Friends of the Rouge and Motor City Canoe and Kayak Rental will host its Fall Paddle Trip on Saturday, October 23 from 10am – 1pm. You are welcome to bring your own kayak or rent a kayak or canoe from Motor City Canoe and Kayak Rental for $35. All participants are required to wear a personal floatation device. Participants must also show proof of vaccination or negative COVID-19 test 24hrs prior to the event. To register, click the button below!
Your Rouge, Your Story by Jennifer Lanzilotti
How lucky I am as an artist to be living so close to the Lower Rouge River Recreation Trail! It is my happy place, where I love to walk and run and restore my soul. The quiet trail, where there are no automobile sounds to interfere and distract, is truly an artist's paradise. For me, the blessing is double. Nature is my inspiration, and the heavily wooded trail provides so many beautiful scenes that I can turn into some of my best paintings. If that weren't gift enough, I can gather the perfect fallen leaves that will become my canvas. Walking there in the Fall helps to replenish the leaf supply that I will use for the coming year, while all the seasons provide me with inspiration and feed my constant need for the beauty of nature.
This section of the Rouge has been restored from its earlier industrial condition into a far more pristine experience of nature. I thank all those Friends of the Rouge for the years of cleanup and hard work that have restored this area to its natural beauty. Its benefits are for everyone, and I am one who is truly grateful to have this special place to paint and enjoy every single day.
Check out Jennifer's art:
@Jensfallenleaf on Instagram
Jen L. Art on Facebook
https://www.fallenleaf.us/leaves.html
CREATURE FEATURE - Wild Beauty
Wrapped in magnificent coats, mink are extremely energetic and athletic animals. Though small in stature – only two to four pounds on average - they are fearless and face the world with an outsized dose of vim, vigor, and vitality. You may have been lucky enough to glimpse one running along the banks of the Rouge River!
Upcoming Events
Sept. 1 through Oct. 8 2021
PARC: Plant World-Class Rain Gardens
Sat. Oct. 16 10am-approx. 4 pm
Five Thursdays, Oct 21, 28, Nov 4, 11, 18
In-Person Master Rain Gardener Training Program
Five Saturdays, Oct 23, 30, Nov 6, 13, 20
Virtual Master Rain Gardener Training Program
Sat. Oct. 23, 10am-1pm
Lower Rouge Paddle Trip
From Your Friend, Jaclyn
Restoration Assistant

THANK YOU
2021 SUPPORTERS!