Rouge Rundown April 7, 2021
April 7, 2021
ROUGE RUNDOWN
Celebrating Earth Month!
Spring has sprung with lots of ways for you to make the world better - starting in your own backyard! Here's how you can make an impact:
Friends of the Rouge Spring Bug Hunt (registration closed)
Multiple Earth Day weekend cleanup events with partner organizations AND MORE!
Order your Rain Barrel by 4/14 for the Earth Day Weekend pick-up in Beverly Hills
Make your 2021 gardening more fun with a rain barrel! Order by April 14 to pick up on April 24 in Beverly Hills. Later pick-up options in Redford and Livonia. Get an extra 15% off by purchasing a membership with Friends of the Rouge!
Want to learn the basics of how Rain Barrels can work for you and your yard? Join your Friend Matthew Bertrand today at Noon for a quick & free information session!
Join Your Friends Today for the Annual Meeting, Award Ceremony & Town Hall!
2020 was a year like no other! Join the Annual Meeting via Zoom today, Wednesday, April 7th from 3:00 - 4:30 PM, and learn more about the impact that you made possible last year! New: a town hall style Q & A session.
New Trees for Dearborn's South End!
Your Southeast Michigan community is soon to be home to 100 new trees! Are you are a community member of Dearborn's South End? Reserve your new street tree today and see it planted in front of your home this Fall!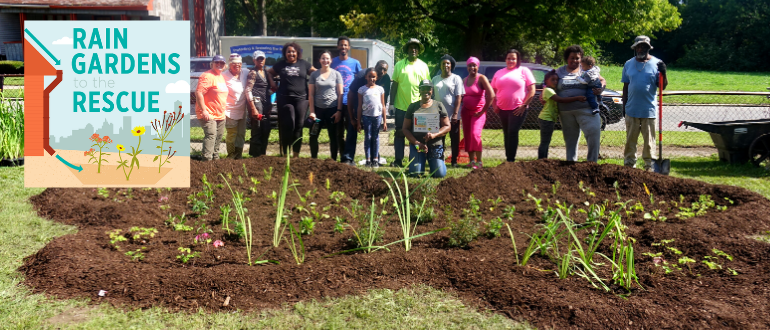 Detroiters: Your Rain Garden Awaits!
Would you like to bring songbirds, butterflies and beauty to your yard and neighborhood? You can do that while reducing flooding and water pollution with Rain Gardens to the Rescue! Residents, libraries, activity centers and places of faith, especially in council districts 1, 2 and 7, are encouraged to apply. Space is is limited, participation is free! Applications due by April 26.
Green Jobs Development Program
Looking for a newer and greener career? The Storm Water Specialist Training is a workforce training program that provides Detroiters with a pathway toward employment in green, living-wage jobs. Join this 8 week, 16 class course for only $30 and be on your way to employment in the green economy! Apply by April 26.
Flora Feature: All-Star Host for Pollinators
This plant is an all-star of wetland habitat plants that feed deer, beavers, muskrats, squirrels and other mammals. These plants also offer some of the earliest nectar for pollinator species and serve as the host plant for many different butterflies and moths including mourning cloak butterfly, viceroy butterfly, red-spotted purple butterfly and more!