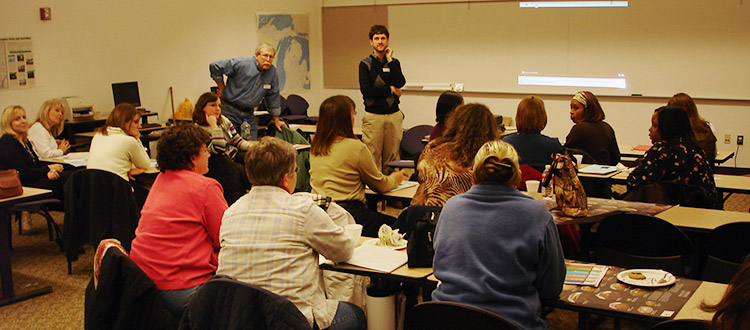 REP Assistants are volunteers who assist a teacher participating in the Rouge Education Project by working in the classroom and on the field trip with the students at the Rouge River. This may include guiding students in conducting water quality tests, surveying the stream, collecting and identifying aquatic organisms, and helping students calculate results. This is a unique opportunity for college students or other interested adults of all interests and backgrounds.
All training is provided; some experience working with children helpful.
Requirements
Be at least 18 years of age, possess a valid driver's license, and have reliable transportation
Complete a chemical and/or bug identification & sampling techniques training event
Be available during school hours to help in the classroom and at the river in September/October and/or April/May
Be willing to travel to a school and site on the Rouge River in Wayne, Oakland, or eastern Washtenaw County during a school day
Pass a criminal background check and not be listed on the Michigan Public Sex Offender Registry
In return, REP Assistants...
Gain experience for their resume
Get involved in environmental education and outreach
Get involved in their community
Earn volunteer hours that can count towards community service requirements (Phi Beta Kappa, Honor Society, etc.)
Directly apply academic knowledge to fieldwork
Learn more about Rouge River watershed management and share personal knowledge and experiences
Become a role model
Network with schools, other volunteers, Friends of the Rouge, and sponsoring corporations
Depending on the level of involvement with the teacher, a volunteer may contribute up to 30 hours or more working with students
To sign up
Fill out this form if interested in volunteering. Depending on the class size, we try to pair AT LEAST one volunteer per needy school. If you would like to volunteer with a classmate or friend, please indicate that on both of your applications.

If you are a college student: we understand college finals week falls in late April and mid-May.  We typically have a few schools sampling after the official monitoring day.  If you wish to volunteer, but are worried about your schedule, please note that on your application.

Sign up for a Friends of the Rouge Bug Hunt to gain additional experience searching for and identifying aquatic organisms (not required, but encouraged).
Register for your choice of training workshops.  NEW volunteers are required to attend either the Advanced Chemical Training and/or a Bug Identification & Sampling Techniques workshop.  If you have volunteered with the project before, you are not required to attend any training events, but are of course welcome and encouraged to.
Attend the training workshops, if applicable.
Meet with the teacher and students in the classroom you are assigned to.
Assist the school on their field trip to the Rouge River on monitoring day, monitoring day typically falls on/around the first Wednesday in October and the first Wednesday in May.