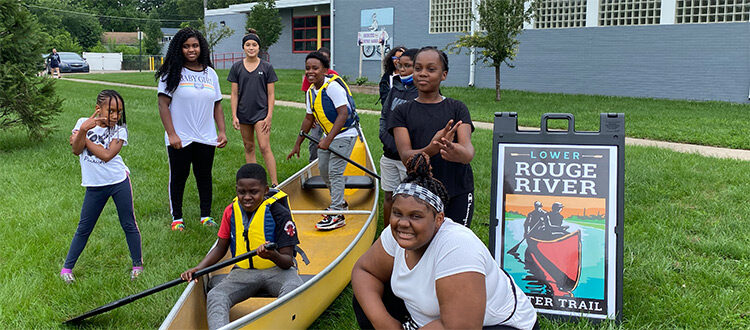 Dry Dock Pop Up – Jefferson-Barns July 2021
Thanks to all of you who attended the 2021 Dry Dock Pop Up at the Jefferson-Barns Community Center in Westland on July 12, 2021.
Thanks to Joanne Campbell with the City of Westland for inviting Friends of the Rouge to share our mission and work with youth participating in the summer program with our Dry Dock Pop Up. The kids were awesome! They were engaged during the presentation on the Rouge watershed terrain model and paddling the Rouge. They asked great questions!
Friends of the Rouge is scheduling Dry Dock Pop Ups at events throughout the watershed to spread the word and promote its vision for connected blueway and greenway trails along the Lower Rouge River. Friends of the Rouge has made Dry Dock Pop Up appearances at Canton National Trails Day, the River Rouge Beechwood Center Juneteenth Festival, and the Westland Farmers Market. Look for a pop-up event location near you!
Peruse Past Dry Dock Pop Up Events HERE.
Here are a few photos to enjoy.