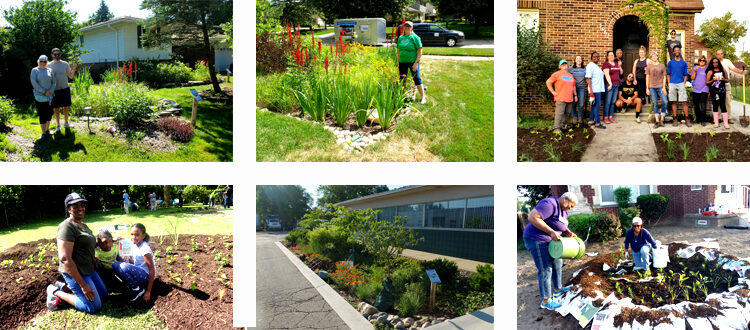 Stamp your Rain Garden Passport!
One of the best ways to learn and plan for your own rain garden is to visit others first! To that end, sign up for any of the Rain Garden Passport Events below, which bring you to a large public rain garden where you can learn about the garden from an expert landscape designer. All participants will be required to perform a Covid-19 self-check before attending, to wear masks, and to maintain 6 ft physical distance.
Press here to E-mail Matthew Bertrand to RSVP (mbertrand@therouge.org)
PASSPORT EVENTS
(OPTIONAL) Volunteer at a Passport Garden
Can you pitch in while you're there? Some of these rain gardens need loving care from caring people like you. Rain gardens that look their best make the most compelling case for more rain gardens. If you're able to get your hands dirty for 30 minutes or more, you'll be making an enormous difference for clean water for your Rouge River. NOTE: your volunteer help is NOT required for you to attend a Rain Garden Passport event.
PASSPORT BENEFITS
10% off coupon code for the Rouge Store good for 1 year for all who complete the following:
Attend 3 or more Rain Garden Passport events (no volunteering), OR
Attend 1 Rain Garden Passport event AND pitch in as a volunteer for one hour
ADDITIONAL BENEFITS INCLUDE:
Help improve habitat for birds, butterflies, and pollinators
Build your rain garden knowledge base
Meet new people
Advance towards a clean water future for your Rouge River
MAJOR KARMA POINTS!!!!