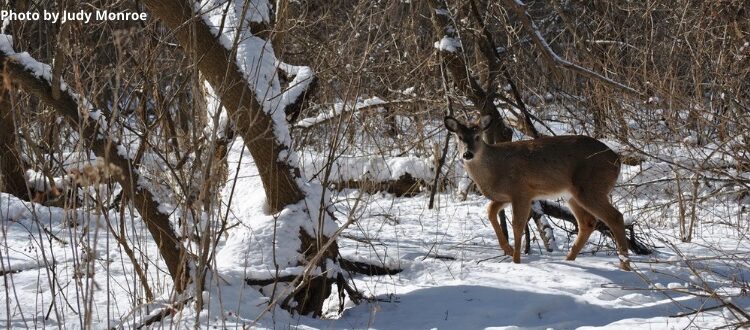 Rouge Rundown Feb 24, 2021
February 24, 2021
ROUGE RUNDOWN
WANTED: Paid Restoration Intern
Do you DIG the environment? Want to learn more, gain experience and restore the Rouge River? Friends of the Rouge is seeking applications for a 2021 paid Restoration Intern position! This position offers several specialized tracks for those in undergrad and master-level programs. Join a great team for boots-on-the-ground work in your Rouge River community. Deadline is March 7, APPLY TODAY!
You Can "Green Your Neighborhood"! Join the Free, Virtual Education Series
You are invited to Green Your Neighborhood! Join in every Monday in March for this free & virtual education series that connects YOU to ways to help make your home and neighborhood greener through nature-based solutions. The series will also showcase Detroit-based stormwater projects. Guest speakers will inspire residents and professionals alike!
Frog & Toad Training Part 2
Your amphibian friends may still be snoozing, but spring is around the corner and that makes us very HOPPY! Are you ready to survey Frogs & Toads as a citizen scientist? Attend Part 2 of the training series and you will be!
Missed Part One? View Recording Here
(required training to participate in the Frog & Toad Survey)
Part Two: Saturday, Feb. 27, 10AM on Zoom - features detailed instructions on how to be a Frog and Toad surveyor. Attendance is required for all who want to survey.
Calling Detroiters: Sign-up for Rain Gardens to the Rescue!
Calling Detroiters! Would you like to bring songbirds, butterflies and beauty to your yard and neighborhood? You can all of that AND reduce flooding and water pollution with a rain garden! Put Rain Gardens to the Rescue!
In the Rain Gardens to the Rescue program, participants will learn the ABC's of rain gardens and then design and help install their very own front yard rain garden! Preference will be given to residents in Detroit Council Districts 1, 2 & 7. Residents and institutions (i.e. libraries, activity centers, places of faith) are encouraged to apply.
Space is is limited and participation is free (some program requirements apply) so fill out your application today!
Applications due by April 26.
Creature Feature: A Song of Spring

One of the earliest songs of spring is the mating call of the midland chorus frog. Small but mighty, this frog at only 1 ¼" long, put on quite a boisterous performance at your local vernal pond!
From Your Friend, Erin
Education Manager
Thank You 2020 Supporters!
Gift cards, gifts in honor of your love ones, rain barrels, consultations, and more!